Everything Evolves, but WWN isn't exactly out of the woods
Evolve may have a big milestone this weekend, but parent company WWN still has problems beneath the surface.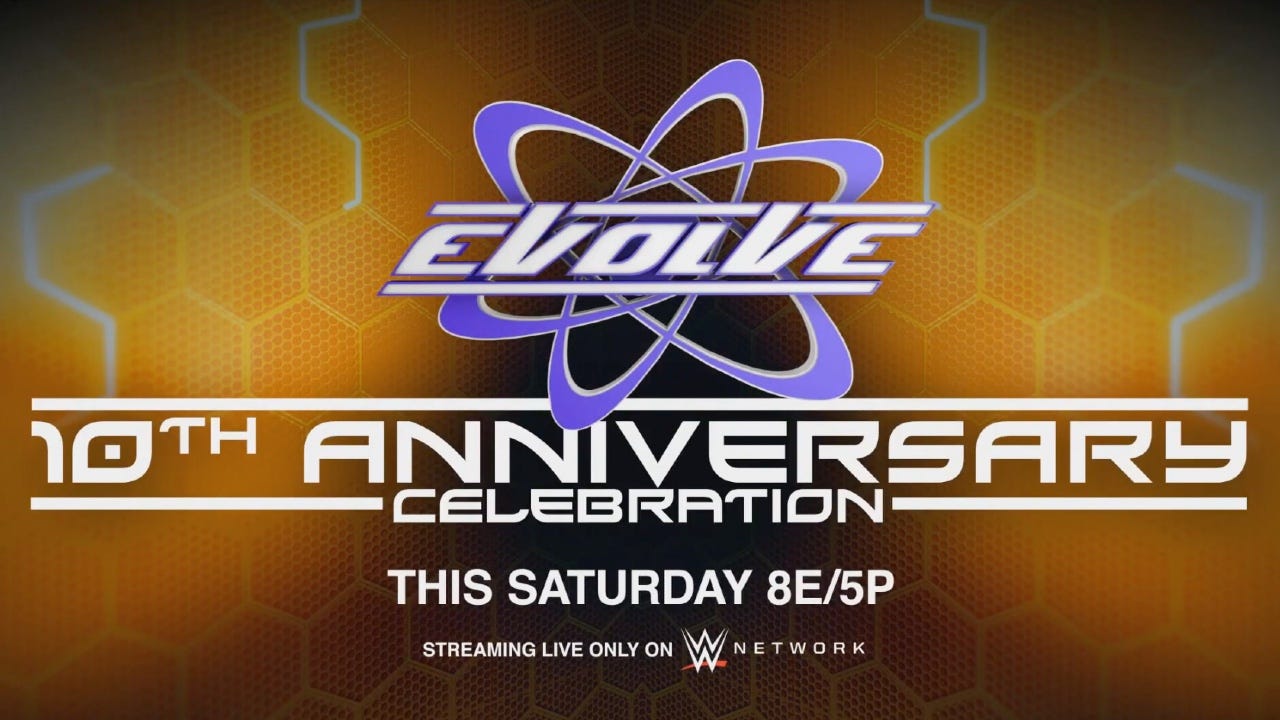 Screenshot from WWE's YouTube channel.
This article is being made available for free. To make sure you don't miss anything, though, including the future installments of The Boys Need Their Candies, an ongoing series on Vince McMahon, WWE, and Dr. George Zahorian's federal trials on charges of distributing anabolic steroids, you will need to subscribe to Babyface v. Heel for just $5/month or $50/year.
WWE announced last Wednesday that after years of…well, anticipation that isn't really there anymore, they will finally be streaming a show from a feeder promotion on WWE Network. Evolve 131, this Saturday night's 10th anniversary show for the U.S.-based Evolve, part of Sal Hamaoui's WWN family of promotions, has gotten the nod, with the show streaming live from Philadelphia and being headlined by NXT and WWE Cruiserweight Championship matches. Per Dave Meltzer's reporting in the Wrestling Observer Newsletter, the WWE side is insistent that the Evolve card being in Philadelphia, the site of their own Extreme Rules pay-per-view the next night, played a big role in the decision, given the streamlining of production resources. The show being opposite AEW's Fight for the Fallen has fueled plenty of speculation, but that's not really here nor there for the purposes of this article.
Evolve's trajectory has been weird: First, it went from a combined Gabe Sapolsky/Bryan Danielson vision focused on "pure sports" with win/loss records to Dragon Gate USA's B-show when Danielson got signed by WWE. When Dragon Gate got out of the picture in 2014, Evolve eventually shifted to what critics called the "grapplefuck" stylings of Biff Busick (now Oney Lorcan), Drew Gulak, Timothy Thatcher, Zack Sabre Jr., and others before making a vaguely defined deal with WWE in fall 2015. The Evolve roster was gutted by the Cruiserweight Classic less than a year later, but the promotion seemingly rebounded with WWN signing a streaming deal with FloSports. In actuality, Flo's weird pricing and badly-designed service killed Evolve's buzz…even as they built around Zack Sabre Jr., Keith Lee, Matt Riddle, and, at times, WALTER. Then Flo sued WWN and, eventually, Evolve finally started transitioning into NXT's C-show last year.
At least for me, this Summer's particular milestone—well, the WWE Network part, not the anniversary—sends memories of the whole Flo affair flooding back most of all for obvious reasons: The streaming hook, plus WWN's seemingly shaky financial footing finally getting stabilized. On the outside looking in, the Flo deal made perfect sense, as WWE had invested a little in Flo, so why wouldn't it be a perfect fit? It wasn't, for a number of reasons, and as it went on, "helped" Evolve continue to carve out its weird niche that somehow occupies both a high profile and peripheral space in hardcore wrestling fandom. Evolve feels like an inherent contradiction, never as popular as it seems like it should be while (now) holding a semi-formal role in WWE developmental and having long occupied a solid place in the WrestleMania weekend indie supershow hierarchy.
I have no problem admitting that when the Flo deal blew up in spectacular fashion—with the streaming company suing WWN—I, like many others, misjudged the situation. Suddenly, it was as if everything made sense: The rumored $3.1 million contract (an accurate rumor, it turned out) seemed a lot more realistic if some carny-assed wrestling promoters had, as Flo alleged, used fake internet pay-per-view buy numbers to inflate their popularity during negotiations. Besides, why would Flo go as far as filing a lawsuit if they didn't have proof?
As it turned out? To use their venture-infused cash to try to bully WWN out of a valid contract. Two months later, in subsequent legal filings, Flo, I guess feeling that it proved their case, filed the WWN contract and WWN's spreadsheet of past internet pay-per-view numbers as exhibits. The IPPV numbers appeared completely legit, and the contract showed that a popular rumor—WWN had been required to increase production values—wasn't true at all. The suit was dismissed, seemingly by mutual agreement, another two months after that. WWN owner Sal Hamaoui quickly went on Facebook and posted a photo—reverse image searches show it wasn't his—of a new sports car in a driveway, implying he had effectively won.
The Flo case was definitely instructive in terms of letting the facts come out. But it's not as if there weren't reasons to be skeptical in the first place.
Back in 2013, the modern WrestleMania weekend as we know it really got going with the first annual WrestleCon at the Meadowlands Exposition Center in Secaucus, New Jersey. That year, for the first and only time, Highspots's now-annual fan convention was accompanied by wrestling shows from WWN and other friendly promotions. The weekend was an overwhelming success—I vividly remember the on-site ATM at the Expo Center running out of cash—and never happened again. Two months later, when announcing the 2014 event in New Orleans, Highspots stated in a press release that:
In part due to the space we selected to host the convention, live events from WWN will no longer be under the same roof as WrestleCon's convention. At this time, WWN is not ready to make any announcements regarding their plans in New Orleans, but we do value their continued partnership. When they are ready to announce their intentions, we'll let you know how their shows relate to WrestleCon 2014.
That oddly worded communication was pretty much the last public word on the matter. The Wrestling Observer Newsletter didn't touch on it until the July 8th issue, where Dave Meltzer wrote that "[d]ue to the costs of the building WrestleCon booked, the WWN crew pulled out of involvement," basically echoing the press release. It's exceedingly difficult to get anyone to talk about what happened, but if you dig around in public records, you start to get a better idea of what might have happened that weekend in Secaucus. Specifically, there have been been two liens from the New Jersey Division of Taxation on World Wrestling Network Inc. for a total of $14,901.72 in unpaid taxes since March 13, 2014. (That's just three weeks short of the anniversary of WrestleMania weekend 2013.)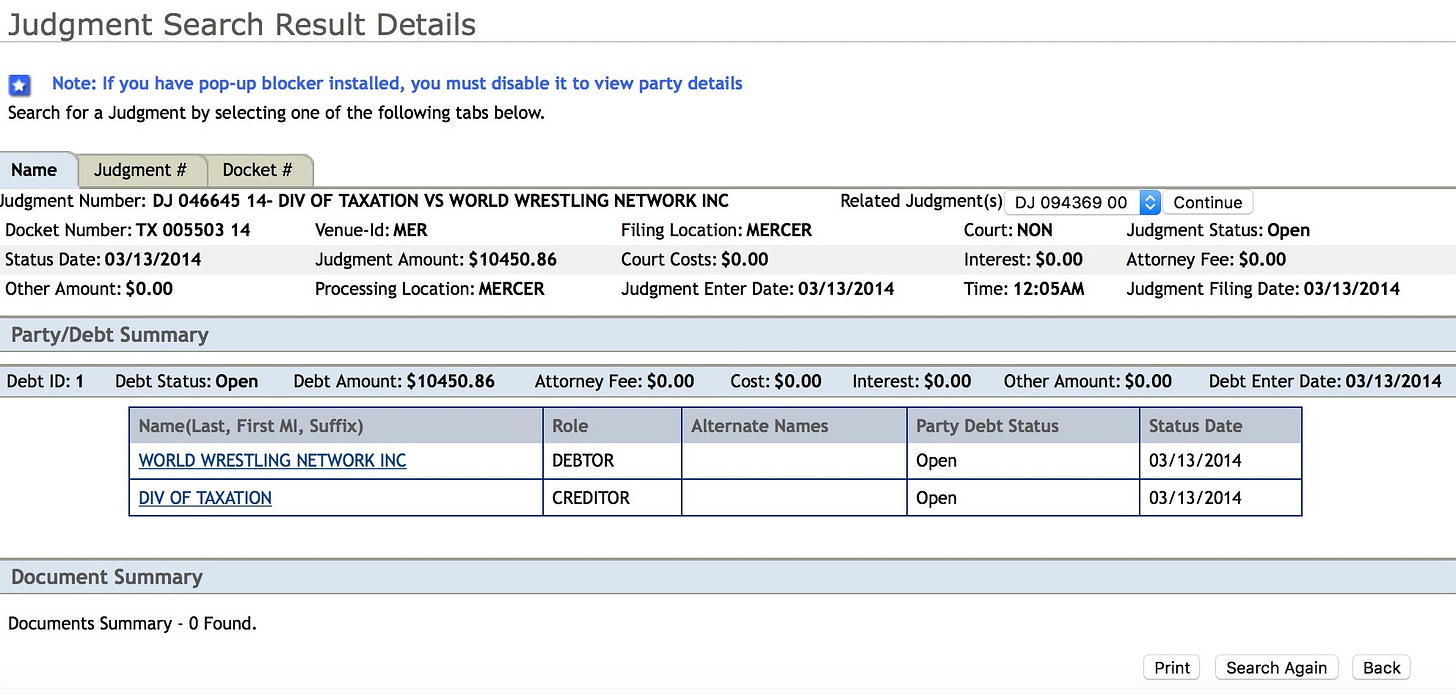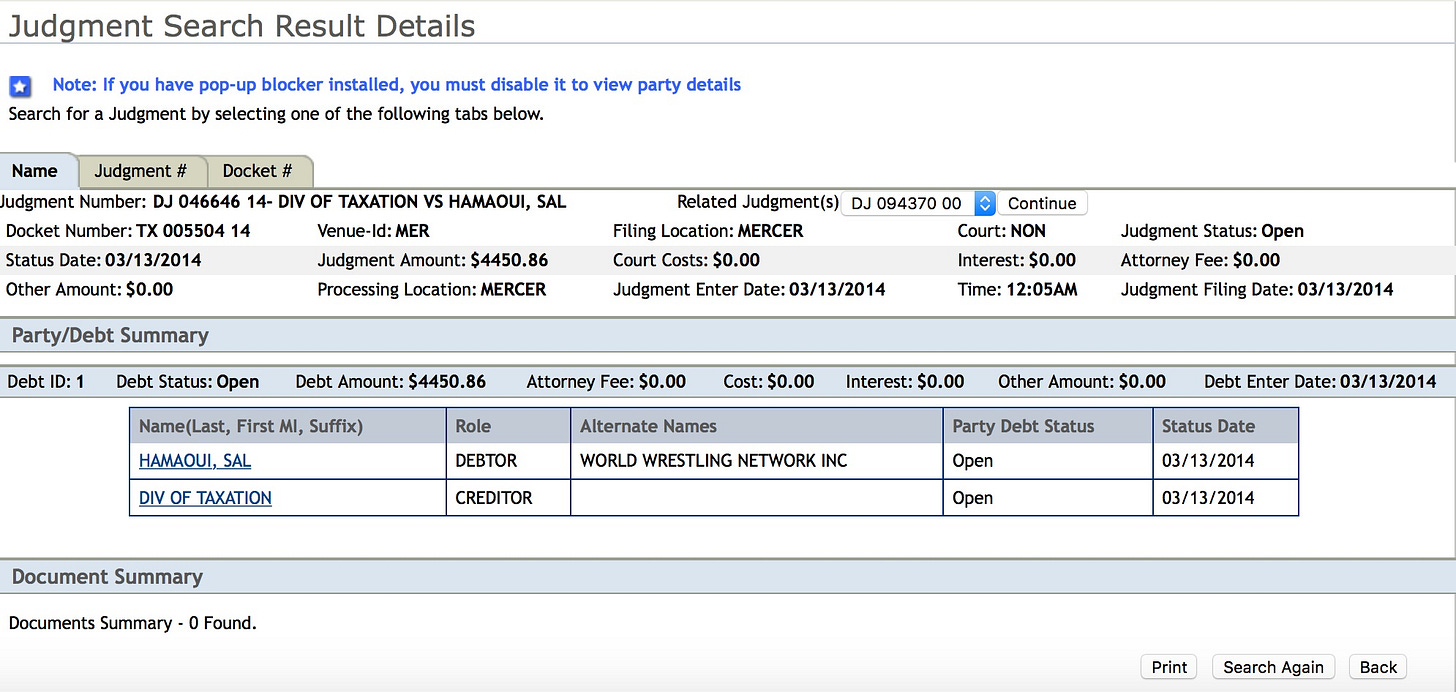 Screenshots from NJCourts.gov.
The individual liens, which the court clerk confirmed by phone are still active and unpaid, are listed as $10,450.86 against World Wrestling Network Inc and $4,450.86 against WWN owner Sal Hamaoui. (The company name is also given as an "alternate name" on the latter lien.) In the six-plus years since WrestleMania 29 weekend, none of the WWN promotions have returned to New Jersey, even though they had previously run five DGUSA shows in the state as well as nine Evolve shows there, including seven of the first eight. They've run bordering states plenty, but have yet to return to New Jersey, even for this year's WrestleMania weekend back in the New York City area. This time, they used their regular main venue, La Boom in Woodside, Queens. (That was announced just six months out even though they had made it a habit of announcing a year in advance whenever possible in the past.)
It's also worth noting that the version of WWN cited in the New Jersey liens no longer exists. According to Florida Division of Corporations records, it was dissolved voluntarily on April 29, 2016. In the articles of dissolution, on top of attesting to basic procedural facts (company name, document number, and date of formation), Hamaoui swore under penalty of felony that:
"None of the corporation's shares have been issued."

"No debt of the corporation remains unpaid."

"The net assets of the corporation remaining after winding up have been distributed to the shareholders, if shares were issued."

"A majority of the incorporators authorized the dissolution."
The new company, WWN, Inc., had already been formed on September 29, 2015, just five weeks after WWE's Paul "Triple H" Levesque first complimented Evolve on a media call and exactly one week before Levesque confirmed on his next such call that Evolve would be a WWE feeder. Whatever official relationship WWE has with WWN, it has to be with WWN, Inc. since World Wrestling Network Inc., the company with the lien against it, hasn't existed in over three years.
Evolve seems like they're on good footing now, but it was clearly touch and go for a while there. And as long as that lien remains unpaid, there are still reasons to be wary of WWN.
As of this writing, Sal Hamaoui has not responded to an email requesting comment on the liens and the dissolution of World Wrestling Network Inc./formation of WWN, Inc.