What can we learn about the 1st WrestleMania being on PPV?
...because it DID happen, and it WAS successful.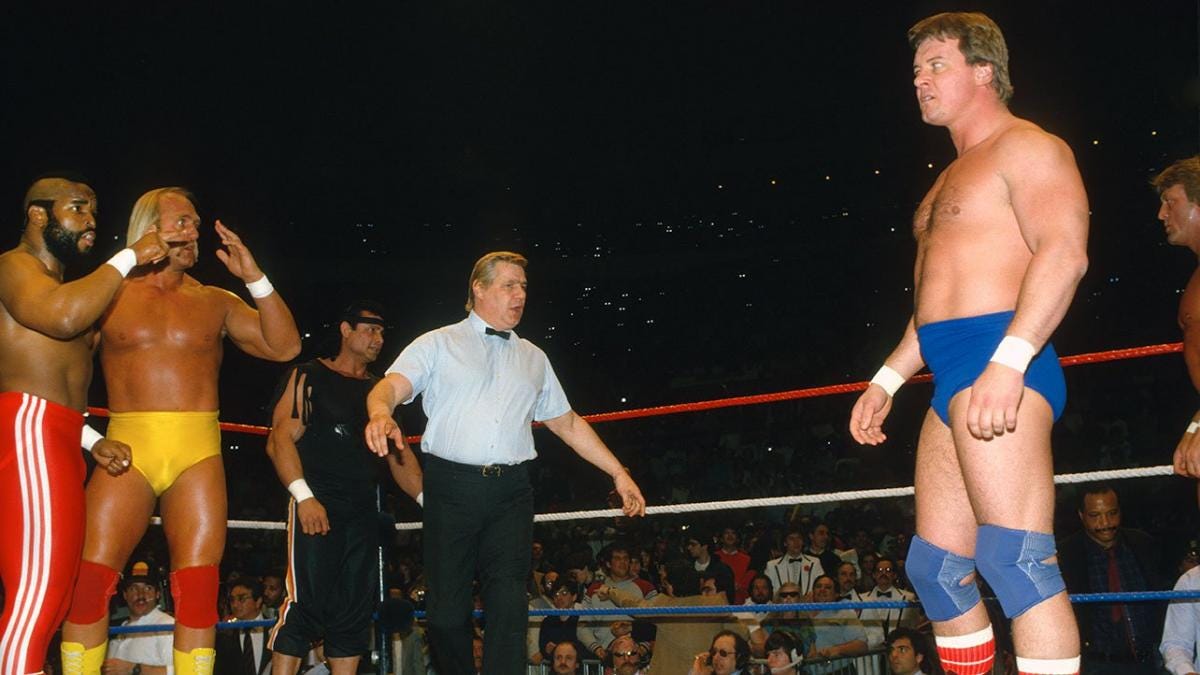 The first WrestleMania main event gets ready to pop off. (Photo: WWE.com)
Enjoy? Want to support this work and get other exclusive content? Then please subscribe for just $5/month or $50/year. Even if you're not able to pay right now, please at least consider signing up for the free version, which will deliver all of the free posts directly to your email inbox.
It's not widely discussed or especially well-known, but the first WrestleMania, on March 31, 1985, did air on pay-per-view. Pay-per-view was in its infancy, even more so than it would be later in the year, so while the show could be viewed at home in select markets, it was primarily promoted as an in-arena closed circuit event. As I noted earlier in the week, the PPV did almost implausibly well: According to data supplied by "PPV distribution consultant" Jay Merkle in the July-August '85 Channels (see the article on pages 48-49 of the PDF), the show was purchased in "more than 100,000 pay-per-view households [paying] just under $10 each." When you consider how primitive PPV was at the time and that the show sold about 398,000 CCTV tickets, that's incredibly impressive.
(I should note, though, thatason Campbell's ProWrestlingHistory.com, which I just used for the CCTV citation, also has the show doing a 1.1% buy rate, but if the 100,000+ figure is right, that has to be wrong, since there's no way the show was available to about 9 million PPV homes. So either the buy rate number is wrong or Merkle's total buys figure is.)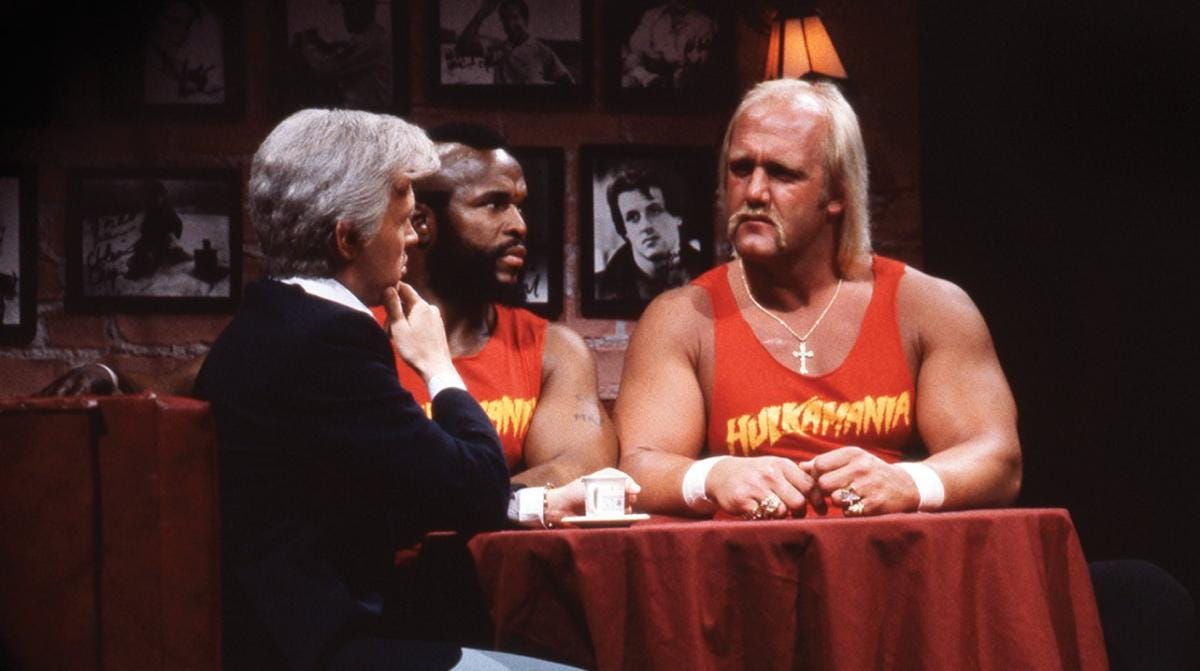 Hulk Hogan and Mr. T looked "mahvelous" in their last-minute Saturday Night Live hosting gig, which ended just 12 hours before the first WrestleMania's 1:00 p.m. ET start time. (Photo: WWE.com)
So, how much more can we learn about the little-known PPV version of one of the most important wrestling cards of all time? We look at old newspapers.
The earliest reference comes 10 days out from the show, on March 21, when the sports section of the St. Petersburg Times had an item about WrestleMania's PPV availability in the area. To order the show for $10, fans had to call Vision Cable before the 28th (Thursday, with the show being Sunday), presumably to make sure that Vision had enough cable boxes to rent out for the occasion. See, back before digital cable, if you didn't have HBO, Showtime, or a similar premium service, you didn't need a cable box except for when you ordered a PPV event, at which point you would have to pick one up from one of the provider's stores. Far from the marathon that the show would become, it was set for a two and a half hour window.
In the WWF's hometown of Stamford, Connecticut, the Stamford Daily Advocate reported on the 26th that for $8, the show would be available on Cablevision of Connecticut's Westport system. Two days later, in an article about local closed circuit ticket availability, there were some addition details from Cablevision. "The response has been very good," said Cablevision Director of Programming Paul Morton. "Subscribers can call for the service until Friday. We will hold the phones open until 5 p.m." They were bullish, but not bullish enough for overtime operators in case anyone wanted to buy it last minute, which shows just how underdeveloped and ill-understood PPV was at the time.
In Shreveport, where the local Times ran a short piece the day before the show about WrestleMania participant Wendi Richter of nearby Bossier City, it was noted that the show would be available without ordering restrictions to Cablevision of Shreveport customers for $9.95. A Cincinnati Enquirer feature on the event mentioned a similar arrangement on Warner Amex's QUBE system, as did the New Orleans Times-Picayune for Cox Cable New Orleans.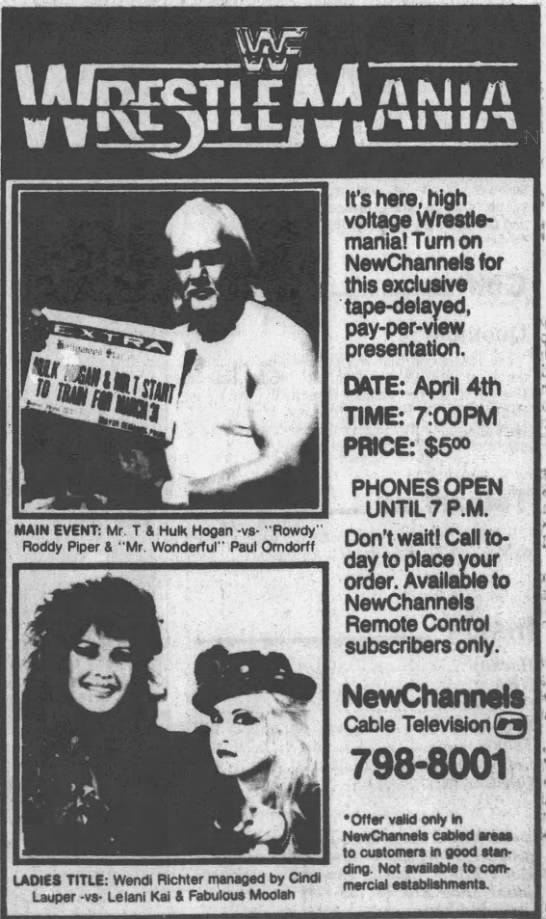 Huh, that's interesting. (Screenshot/Clipping: Binghamton Press and Sun-Bulletin/Newspapers.com.
But things arguably get more interesting after WrestleMania happens.
An ad in the Binghamton Press and Sun-Bulletin pushes a 7:00 p.m. replay of WrestleMania for just $5 on NewChannels Cable Television the Thursday after the show. Oceanic Cablevision in Honolulu aired their own replay on a four week delay, while Cox Cable New Orleans—which we know carried it live—had a Friday night replay "by popular demand" a full five and half weeks later. It seems pretty clear that enough demand was shown for WrestleMania on pay-per-view that cable systems who both did and didn't air it live went out of their way to show replays for over a month after the fact.
As for specifics about how the show did? A St. Petersburg Times article about a tennis PPV in August 1985 quotes the director of marketing for Vision Cable as saying that "It seems like it's not as exciting as WrestleMania was earlier this year," adding that "we couldn't take the calls quick enough" to fulfill WrestleMania orders. On the same day, the Los Angeles Times ran an article citing "WWF officials" as estimating that the show "reached about 1 million people in the designated closed circuit theaters and arenas and on a pay-per-view cable TV in homes [and] grossed about $12 million." The next day, another St. Petersburg Times article on the tennis match paraphrased the same Vision Cable marketing director as saying that "if a pay-per-view show attracts over 1,000 households, as the WrestleMania pro wrestling show from Madison Square Garden in New York did earlier this year, it's doing pretty well." In November, in advance of the WWF's PPV-only Wrestling Classic event, a systems manager for Rockland Cable told the White Plains Journal News that WrestleMania was ordered by 19.8%—or 1,782—of their then 9,000 subscribers with addressable boxes, a local universe that increased to 24,000 for The Wrestling Classic. The Bergen County Record, meanwhile, would report that the Wrestling Classics drew 700 of Vision Cable's subscribers, "less than a third" of how WrestleMania did.
None of this is close to definitive, especially in terms of how widely the show was carried and how many homes it was available in. But it's safe to say that the first WrestleMania was both more available and more successful on pay-per-view than it's generally given credit for.
Enjoy? Want to support this work and get other exclusive content? Then please subscribe for just $5/month or $50/year. Even if you're not able to pay right now, please at least consider signing up for the free version, which will deliver all of the free posts directly to your email inbox.