Underground Resurgence: A look at AAA in the U.S.
Originally published in Fighting Spirit Magazine in November 2014; this feature examines the launch of Lucha Underground and the 20th anniversary of When Worlds Collide.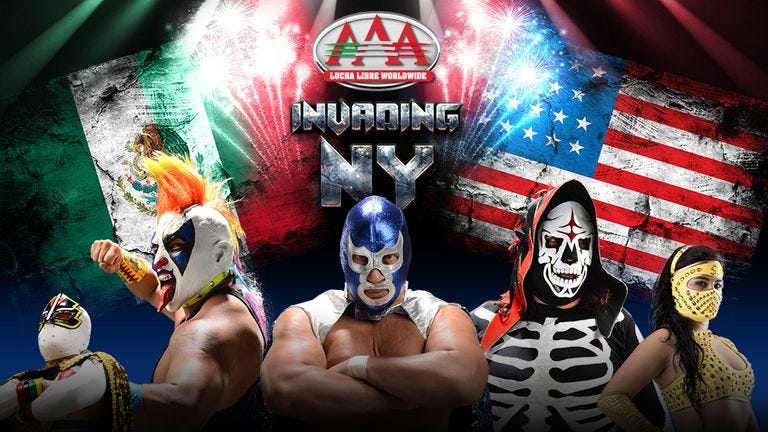 AAA Invading NY promotional artwork. (Image: AAA/Madison Square Garden)
Enjoy? Want to support this work and get other exclusive content? Then please subscribe for just $5/month or $50/year. Even if you're not able to pay right now, please at least consider signing up for the free version, which will deliver all of the free posts directly to your email inbox, as well free preview excerpts of the paid subscriber-exclusive articles.
With AAA having run what ended up being a fairly successful New York City event on Sunday, and with Sports Illustrated having published a widely-criticized article about lucha libre in the U.S.by Justin Barrasso on their website, it felt like a good time revisit another one of my articles from the newly-defunct Fighting Spirit Magazine. In November 2014, between Lucha Underground having just launched and the 20th anniversary of AAA's When Worlds Collide pay-per-view, it was a good time to look at AAA's history of attempted expansion into the United States.
---
When it comes to promoters attempting to bring major league lucha libre to the United States, AAA is always front and centre, including in 2014, as Lucha Underground tries to make its presence felt on the El Rey Network. The flashier and more modern of the two remaining national promotions in Mexico (along with CMLL), they've run on and off – but usually off – in the U.S. going back to the formation of the company in 1992. An early TV taping at the basketball gym of California State University in Los Angeles sold out with an announced 6,500 fans (believed to be around 5,400 fans, with 1,000 turned away) for something in the neighbourhood of a $100,000 gate. Even with the city having a clear appetite for more AAA and more of Mexico's top stars in general, however, disputes with the local promoter over
how the gate was split quickly put an end to the promotion's presence in the city.
This is where New York-based entertainment lawyer Ron Skoler came in. A wrestling fan growing up, his interest had been rekindled around the same time that AAA was catching fire in Mexico.
"I remember I was at home channel-surfing, and I saw this Spanish language station, which turned out to be Galavision," Skoler told FSM. "They had these Mexican wrestlers, and I had really never seen anything like it before. I was watching this, and I was blown away because these wrestlers, these luchadores, were very different. They had colourful costumes and masks; they were more acrobatic; they were not as big and muscled out as the American wrestlers; and they had a high-risk style that I thought was really fascinating."
His curiosity piqued, Skoler called local wrestling radio show host John Arezzi to enquire about who promoted these shows. He learnt that not only did AAA have little presence in the U.S. at the time, but that Arezzi was connected enough that he could help put him in contact with the AAA office. Meanwhile, needing a live event promoter, he called his friend Darryll Brooks of DC Enterprises, an experienced concert promoter from Washington, D.C.
"He thought I was nuts. Then I got him to watch it," explained Skoler. "He thought it was kind of interesting, and then we contacted (AAA founder/ promoter/booker) Antonio Peña. He was very interested, and invited myself and Darryll to come to Mexico City to see what was going on."
The timing couldn't have been better, as Peña was about to promote his biggest show ever, the first TripleMania, which drew the biggest crowd in the history of Mexican wrestling: 48,000 people to see a retirement match between Konnan and Cien Caras. Between the crowd and the potential for merchandise sales with all of the masks up and down the card, this was the convincing that Brooks needed. It wasn't long before they made arrangements with Peña to bring AAA back to the United States.
"I thought Peña was the Walt Disney of wrestling. He was a creative genius. I've never met Vince McMahon [and] I respect what he's accomplished, obviously, but I can tell you that Peña was just brilliant. He created most of the characters, he created a lot of the costumes, he came up with the storylines, he was the booker – he was really
the straw that stirred the drink. He was the producer, the director, and really the behind the scenes star of the whole thing.
"Without Antonio Peña, none of this would have been possible."
THE RE-MATCH
The first show promoted by the Skoler/Brooks group, publicly referred to as the International Wrestling Council, was billed as La Revancha, which translates as "the re-match," or less conventionally, "the revenge". In a what was billed as a Triangle match, Konnan and Cien Caras would be joined by Jake "The Snake" Roberts, who had attacked Caras and mini Mascarita Sagrada during the TripleManiamatch. The run-in started the chain of events that got Konnan counted-out, and cost him his career. Out of the jurisdiction of the various legitimate boxing and wrestling commissions in Mexico, Konnan was able to make his return in Los Angeles (although his actual first match back was the night before was at a TV taping in San Jose).
"We advertised that show very heavily," said Skoler of the promotional campaign for La Revancha. "Not one word of advertising in English; everything in Spanish, and it cost a fortune because the number one radio station in Los Angeles was a Spanish language music station. It really put me through the ringer emotionally, because we didn't know what was gonna happen. [As of] the day before the event, we had sold 6,500 tickets. I was talking to someone from the arena, and they said, 'Well, if this were a WWF show, they normally sell most of their tickets in advance, so based upon 6,500 advance sales, which is a lot for a Mexican event, we figure you'll have about 8,000 people.'"
There was one problem with that theory: lucha libre crowds come primarily from walk-up ticket sales. Expecting a 17,000-seat building to be less than half- full, Skoler came back on the day of the show to see a giant line wrapping around the building; sales totalled 18,000 tickets, and another 8,000 were turned away. When he found out just how big the demand had turned out, Skoler went to talk to Brooks.
"I was walking around like, 'This is great – look what I did for you guys!' He's looking all depressed, so I said, 'What the fuck's the matter with Darryll?'"
Brooks' right-hand man, Gerald Scott, explained the problem.
"You don't understand the way a promoter thinks. You're thinking, 'This is our first event, I got you guys into it, we got a sell-out, the place is packed... Isn't this wonderful?!' Darryll is thinking, 'I got 8,000 motherfuckers with money in their pocket and I ain't got a second show, so I've got to turn them away.'"
Skoler explained that it's one thing to turn people away, but it's another when it's that many: "It's hard to draw 8,000 people!"
Over the next year or so, they ran a number of follow-up shows, with Los Angeles being the only regular stop. Trips to San Jose, Chicago, and New York did well, but were not the overwhelming successes of L.A. Only a San Diego date (insisted upon by Brooks, who routed a tour the same way he would with concerts) really missed the mark, as it was too close to Tijuana, Mexico, which had constant major lucha libre shows.
Having suddenly become the biggest-drawing house show promotion in the U.S, they started to get attention in the mainstream American pro wrestling business. Eric Bischoff and Gary Juster of WCW even approached Skoler with a proposal: the November Los Angeles show could appear on pay-per-view, presented by WCW. Financially speaking, the house show and the pay-per-view would be completely separate, so there was no risk to Skoler, Brooks, or Peña. It made sense for everyone, and the date was set for November 6, 1994, with the event entitled Cuando Los Mundos Chocan, or When Worlds Collide.
CONTRACTUAL OBLIGATIONS
There have always been vague stories that WCW didn't quite live up to its end of the bargain, such as agreeing to air AAA matches on Saturday Nightbut reneging due to alleged concerns about inferior production values. Skoler explained that this isn't exactly what happened, but it isn't completely inaccurate, either.
"There was nothing in the contract that they said they would do that they didn't do. As far as things that were told to us, there were things that they didn't do, but there were things that they did do [but didn't need to], also. They did talk about our [house] show in L.A. before the pay-per-view; you know, 'Our friends in Mexico are running an event at the Sports Arena on such and such a date, you should catch it.' But WCW was a corporation, and just like with most corporations, everybody's trying to cover their ass, and nobody wants to stick their neck out and say anything that's unpopular with anyone else."
Cruise was doing the Control Centre segments because he was set to be the host and play-by-play announcer for the pay-per-view, with WCW Hotline correspondent Mike Tenay making his announcing debut on colour commentary. Working for WCW one day each week to do studio voiceovers for the recap and syndicated shows, Cruise stepped up when the other announcers, like Tony Schiavone, wanted nothing to do with When Worlds Collide.
"Tony was like, 'No way am I touching that!'" Cruise told FSM. "He was pretty open that he had no desire whatsoever to get involved with AAA. And frankly, I was kind of looking for more to do, more of a challenge, and so basically I told Eric [Bischoff], 'I'll do it!' And he said, 'Really?' I said 'Yeah! I'm glad to.' I think he was thinking about Mike Tenay doing it."
Cruise noted that it didn't come together immediately, though.
"I guess he could have ordered Schiavone to do it, but people don't realise that Schiavone had a very important office and producer role in WCW, and he was constantly busy. So his role as a play-by-play announcer was probably a very small percentage of the time that he would spend [working], and my guess is that it was not the most enjoyable part of his job for him.
"So maybe Eric was scrambling. I don't know if he thought he'd go with an announcer who knew the product really well, or maybe had a Spanish accent but was fluent in English. Nobody ever told me if there was a scramble, and frankly, when I first approached Eric and others – kind of sent it up the chain – I didn't really get any response. But I think they saw I was serious about it, I was studying it, and Mike was feeding me tons of information, so they knew it wasn't a passing thing for me. They knew I would treat it seriously, and give it my all."
While Cruise was a long-time newsletter reader and tape collector, his lucha libre exposure was limited to what little he could get his hands on.
"I told [Bischoff] I'd study; in fact, I remember that, on my own dime, Tenay and I flew down to [Mexico] and we went to the events to try to get a flavour for things. Tenay, of course, was an incredible expert on all of the wrestlers, and he gave me all kinds of notes and all kinds of briefings. I really went in there confident, but at the same time completely dependent on Mike."
Once Cruise got the gig, he was largely left to his own devices, and to this day, he's still not sure why, other than that WCW brass was clearly having second thoughts.
"Going in to the pay-per-view, things were very tense, and there was some buyer's remorse on the part of WCW. You could always sense that there were things happening, but you could never quite get a grasp of it. It was like trying to grab fog in your hand; there were always these misunderstandings, and once I was assigned to do it, nobody followed up with me. I mean, I talked to the travel people and they got me my ticket, but Eric didn't call me in. Tony didn't call me in and say, 'How are things going? Here's what you'll be doing...' I was really left on my own.
"I flew out [to Los Angeles] the day before, and then Mike and I met up, and I don't even know if we had a production meeting... It was all very strange, because this was clearly a big deal for WCW, and yet corporately, there was very little communication."
WHEN WORLDS COLLIDE
While it's rightfully remembered as one of the greatest pay-per-view cards in the history of the sport, it's obvious that there were a number of miscommunications between the WCW and AAA sides that could've caused the show to fall apart. With the wrestlers being used to working without time constraints and AAA's previous Los Angeles house shows hitting the four-hour mark, every match but one was cut down from two-out-of-three falls to just one fall. In the second match on the card, billed as "The Battle for Respect", the finish (Fuerza Guerrera submitting Heavy Metal with Kensuke Sasaki's Strangle Hold Gamma) comes out of nowhere. This isn't out of the ordinary in the first or second fall of a lucha libre match, but as the definitive finish of a one fall bout, it was the most uneventful way to end proceedings. From there, both the wrestlers (they keep going as if we'll get another fall) and the announcers (they speculate that it's been extended to two-out-of-three falls) seem lost until music starts playing and everyone realises that, yes, that was the end of the match. With WCW imposing such strict restrictions, the show went off the air just over two hours and 10 minutes into the scheduled three-hour window.
In spite of some logistical problems, from top to bottom, it was an incredible card, as Rey Mysterio Jr, Eddy Guerrero, La Parka, El Hijo del Santo, and many others were exposed to a new audience for the first time. Historically, though, the show is best remembered for the co-main event, as Guerrero and "Love Machine" Art Barr put their hair up against the masks of Santo and Octagon.
The feud had been brewing for well over a year, ever since Barr tricked Guerrero into turning on Santo by attacking him while wearing a fan's souvenir Santo mask. Guerrero and Santo was the key issue, to the point that Barr and Octagon weren't originally part of the match, instead being scheduled to corner their partners. Knowing he couldn't miss the opportunity, Barr offered to lose his hair for a bargain price. The longest match and only two-out-of-three falls bout on the card, it's a brilliantly booked exhibition, with state of the art highspots for the period. Arguably, it was the most dramatic match of the year in the U.S.
The announcing was almost universally praised, with Cruise going above and beyond in calling his first pay-per-view event, and Tenay making a statement with his debut as a colour commentator. Even with all of the kudos he received, though, it didn't sink in for Cruise until a few weeks later, when he watched the show with Jim Ross, who was working for Smoky Mountain Wrestling in between WWF stints.
"I went, we sat, and Jim Ross was critiquing me match by match and point by point. One thing he said that really struck me – and this is true – is that I peaked too soon; that I was so excited to be there, so happy to be the announcer on a pay-per-view, that I really got too heavy into the first couple of matches, and didn't build up to it.
"Here I am sitting in Jim Ross' house with [wrestling writer] Dennis Brent, and I'm getting some play-by-play critiquing from him. I was overjoyed."
FAILURE TO FOLLOW UP
The afterglow of the show meant little to nothing for AAA. With no future pay-per-views and no new American TV deals to supplement its time-slot on Galavision (which had very limited U.S exposure, although a European version that included AAA was preset on the satellite receiver supplied by Sky TV), there was no way for it to translate to money for the promotion. The American talent all benefited from the exposure, with Louie Spicolli getting a WWF contract for his effort, but that was about it.
Sadly, however, that was only the beginning of AAA's problems.
Art Barr died in his sleep on November 23, less than three weeks after the show. The Hair match turned out to be his last, as he went home to Oregon and didn't take any bookings immediately followingWhen Worlds Collide. AAA lost one of its top heels, and about a month later, the Mexican government heavily devalued the peso against the U.S. dollar. This led to hyperinflation in Mexico, and suddenly, the top U.S-based wrestlers in the company, like Guerrero, were way out of AAA's price range. Within weeks of what is almost universally considered one of the greatest matches in lucha libre history, the heel team was gone from the company.
While AAA did return to Los Angeles in July 1995, it was on their own, with Skoler out of the picture.
"What happened was... it was not a personal thing. I always got along with Peña. The thing is that we didn't get co-operation from Televisa (the network that broadcast AAA and had a stake in the company at the time) at all as far as television was concerned. We didn't have a contract with them. We didn't have an exclusive with them. We had an exclusive understanding, but there were a lot of people that were trying to undermine us... I wanted something where we were locked in more, and we spoke to Paco Alonso at CMLL."
That pairing ran one show together (which included Eddy Guerrero's return to Los Angeles) before the deal fell apart. AAA only ran twice on its own after Skoler signed the CMLL deal, and soon exited the U.S. market.
GAINING (UNDER)GROUND
Just eight days short of the 20th anniversary ofWhen Worlds Collide, AAA finally re-entered the U.S. market. For the over a year, FSM had been told how AAA had made a deal with El Rey Network – an English language network aimed at Hispanic families who primarily speak English. While not a huge presence yet, it seemed to be committed to some kind of AAA lucha libre show as an anchor programme on the network.
From there, details slowly trickled out. Survivor creator Mark Burnett was at the helm of the project, and it wasn't going to be a traditional wrestling show. After months of rumours about a reality TV component to the programming, AAA finally shot the TV tapings, released more details and some trailers, and then aired the show on October 29.
In some ways, it's the latest take on "Hollywood wrestling" – a skewed view on the sport along the lines of Wrestling Society X, Lucha Libre USA: Masked Warriors et al. The presence of Mexican luchadores from AAA was minimal at the initial tapings, and there was too much emphasis on former WWE stars like Chavo Guerrero Jr. (who admits he has minimal lucha libre experience, yet serves as road agent). And of course, there was a heel authority figure in the form of "promoter" Dario Cuerto, played by Spanish actor Luis Fernandez-Gil.
Having said that, there was a dramatic uptick in match quality and crowd heat when the AAA talent came to the fore, and while Matt Striker needs to be reigned in on play-by-play, Vampiro is a surprisingly solid colour commentator in both English and Spanish. Fernandez-Gil is a wonderful ham as Cueto, to the point that there's little concern about his role going forward. Furthermore, on the first episode, Prince Puma (Ricochet) and Johnny Mundo (John Morrison) had an excellent match that is worth going out of your way to see Indeed, the Hollywood aspects actually makeLucha Underground feel quite fresh. There's definitely promise, and it may just be that the problem with previous Hollywood wrestling was the lack of competent "Hollywood people".
This may be an entirely different product from the regular AAA show that airs in Mexico, but in Lucha Underground, the group has finally put its money where its mouth is.
All the stars will have to align to make Mexican wrestling as hot as it was in 1994, but with Alberto Del Rio having jumped to AAA, and Rey Mysterio likely not far behind him, the opportunity is now there to give lucha libre the spotlight it deserves.
Enjoy? Want to support this work and get other exclusive content? Then please subscribe for just $5/month or $50/year. Even if you're not able to pay right now, please at least consider signing up for the free version, which will deliver all of the free posts directly to your email inbox, as well free preview excerpts of the paid subscriber-exclusive articles.