The Ultimate Reconciliation: An Inside Look at the Vince McMahon-Ultimate Warrior Relationship
Originally published in Fighting Spirit Magazine in 2014, this is a look at the Vince McMahon/Ultimate Warrior relationship via documents they filed in court.
Vince McMahon & The Ultimate Warrior yuk it up during rehearsals for the 2014 WWE Hall of Fame induction ceremony. (Screenshot: WWE Network)
With Fighting Spirit Magazine folding, I figured it would make sense to start using Babyface v. Heel to post the articles I wrote for them over the years. What better to start with than the one of the first articles I wrong for the magazine, which is also the one most on-brand for Babyface v. Heel: Charting the relationship between Vince McMahon and The Ultimate Warrior via exhibits filed in the lawsuit over the Self-Destruction of The Ultimate Warrior DVD. Just remember to keep in mind that when I'm using the fully edited version of these articles that Brian Elliott went over, certain words will be spelled in British English.
---
The Ultimate Warrior's time in New York was filled with controversy and squabbles with Vince McMahon. As the former WWF champion prepares to enter the WWE Hall of Fame, David Bixenspan uses newly uncovered documents to examine the rocky relationship.
Note: Since James Brian Hellwig legally changed his name to "Warrior" in 1993, he is referred to as such in the narrative for the sake of consistency. References to "Jim" or "Mr Hellwig" only appear in quotes (printed verbatim) from the source material.
First run: 1987-1991
The Ultimate Warrior quickly rose to prominence in pro wrestling: he was working for the World Wrestling Federation after just 18 months in the business, won the Intercontinental title less than a year after his WWF TV debut, and took the WWF championship at WrestleMania VI by being the first man to cleanly pin Hulk Hogan since the company went national. For a number of reasons, though, he was considered unsuccessful at the very top, and he dropped it to Sgt. Slaughter at Royal Rumble '91 to set up Hogan regaining it at WrestleMania VII. After teaming with Hogan against Slaughter, Col. Mustafa and General Adnan at SummerSlam '91, he went home for eight months, after McMahon reneged on a verbal agreement to bring Warrior's pay and schedule in line with that of "The Hulkster".
By the start of the final year of this first run, however, the relationship between Warrior and WWF management had deteriorated significantly, especially after an incident where Warrior was alleged to have rudely snubbed a boy who asked for an autograph. The child turned out to be the son of the general manager of a TV station with whom the WWF did business. Vince McMahon explained the circumstances, in quotes from a 1999 deposition.
[The general manager] picked up the phone and called [WWF syndication salesman] Joe Perkins and said 'Goodbye.' [Perkins] tried to talk – tried to calm the general manager down, who had been embarrassed in front of his son. And Mr. Hellwig agreed to, at the very least, do a videotaped 'I'm sorry,' you know, type situation, which he objected to, obviously.

It wasn't uncommon, you know, I mean, for Mr. Hellwig from time to time to refuse autographs from kids or from anybody. He didn't like to do that and was often rude to fans.
When asked by Warrior's lawyer if this had been "true throughout his years at the WWF", McMahon replied, "More specifically, as he became more and more popular."
The start of Warrior's July 10, 1991 handwritten letter to Vince. (Screenshot: Federal court records)
In a letter to McMahon dated July 10, 1991, Warrior addressed the supposed apology video.
For the last 2 1⁄2 years I should have never had the questions I did. To stand and make a videotaped apology for something I never did made me realize all we have is business. Once again I went without sleep, if ever I do so again it will be because I elect to, not because my wandering mind says to do so.
In realizing that McMahon was nothing more than his boss, it appears Warrior hit a breaking point.
In reaching this conclusion I ask for these things. You say 500,000 for WrestleMania is unfair, then I say the last 5 1⁄2 years (sic) of not being compensated equally when I meant as much or more to the company was total bullshit and most definitely unfair. I have sacrificed more than 500,000 more than 1 million dollars, even more in monies that should have been paid to me in receiving equal compensation as Hulk.
Warrior's list of demands were as follows:
(1) $550,000 release from the monies allotted me to purchase my home. This will suffice as my WrestleMania VII payoff, but let it be noted it is not fair. I meant as much or more to that show as Hulk — I deserve to be paid the same (I know what Hulk will get).

(2) 4 days off every other time off period – except Pay-Per-View only.

(3) I want the same pay cut as Hulk gets on all Pay- Per-Views, SNME, FRIDAY PRIMETIME, house shows and proof as such. The same pay cut applies to what Hulk has been paid with relationship to past events WrestleMania V, VI, VII ie. when Hulk was top draw. (4) I want numbers and prove (sic) of monies on 1-900-HULK and likewise same pay cut.

(5) Same pay cut on all forms of merchandising.
From there, he closes the letter with this:
Because I have had to always knock on your door words alone are not good enough. I understand [CFO] Doug Sages is on vacation, call him take his days off away like you do to the boys and myself and have it written. Every time I had to knock upon your door upon leaving I have always apologized. I no longer feel I have any reason to apologize, Therefore I will not. I have tried to speak as a friend, but maybe I don't have the qualities you required to seek me out as a friend. The videotaped apology was the icing on the cake - you see it as business so whether I like it or not I must do the same. Whatever your decision I can and will live with it. Till then I remain home with one who cares.
The start of Vince McMahon's July 13, 1991 letter to The Ultimate Warrior. (Screenshot: Federal court records)
Three days later, McMahon replied, also in writing, accepting all of the demands.
Your pay rate on house shows will increase to 4-5% of the net, effective immediately, with the understanding that no other WWF athlete will be paid at a higher rate. Likewise, no other WWF athlete will be paid at a higher pay rate than you on pay-per-view events.
He closed with a personal note:
I regret the turmoil you've put yourself though and your agonizing over what you feel is fair compensation. And even though we have a difference of opinion over some of these matters, I am resolved to work with you in the same honest and equitable way that I always have. Furthermore, I would like to express to you my deepest appreciation and admiration for you as a performer, as a member of the WWF family, as a man and as my friend.
For the next six weeks, everything appears to have largely gone back to normal. Warrior gave McMahon time to respond to his letter, as he made most of his bookings in this period. He did, however, no-show the July 29 Superstars taping in Worcester, Massachusetts, the Wrestling Challenge taping in Portland, Maine the next day, and the next few days' worth of house shows, before returning on August 3. He made the following August 19-20 tapings, for shows airing the month after SummerSlam, though he wrestled in dark matches.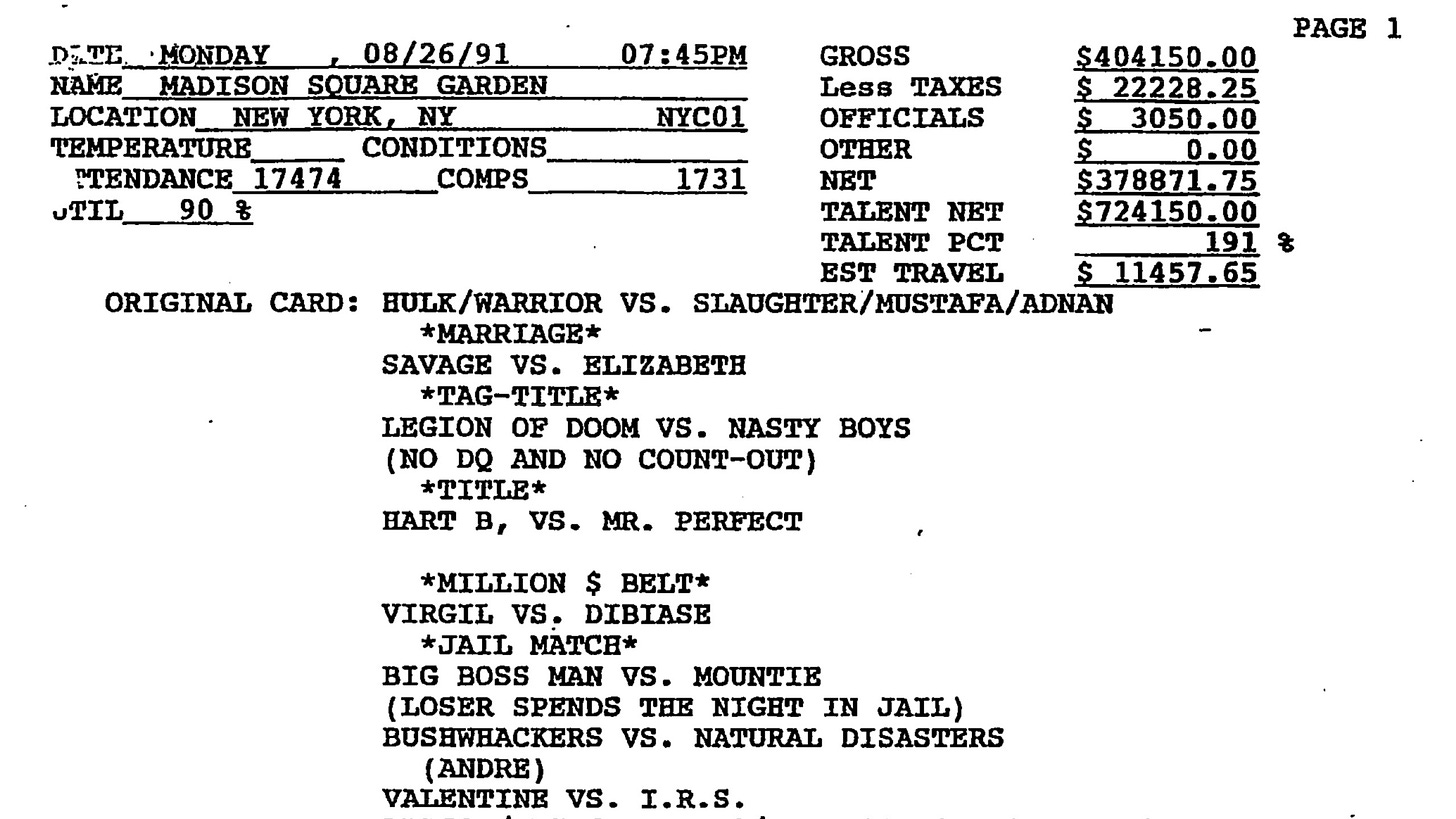 The introductory portion of the SummerSlam '91 payoff records. (Screenshot: Federal court records)
The main event at SummerSlam was largely built on whether or not the guest referee, the debuting Sid Justice, would call the match fairly. In the bout itself, Warrior was an afterthought: the heels got the heat on Hogan, he made his own comeback without making a tag, Warrior chased Adnan and Mustafa to the locker-room, and Hogan pinned Slaughter after throwing powder in his eyes. Later, the announcers wondered where Warrior ran off to, but the scene ended with Hogan and Justice posing together.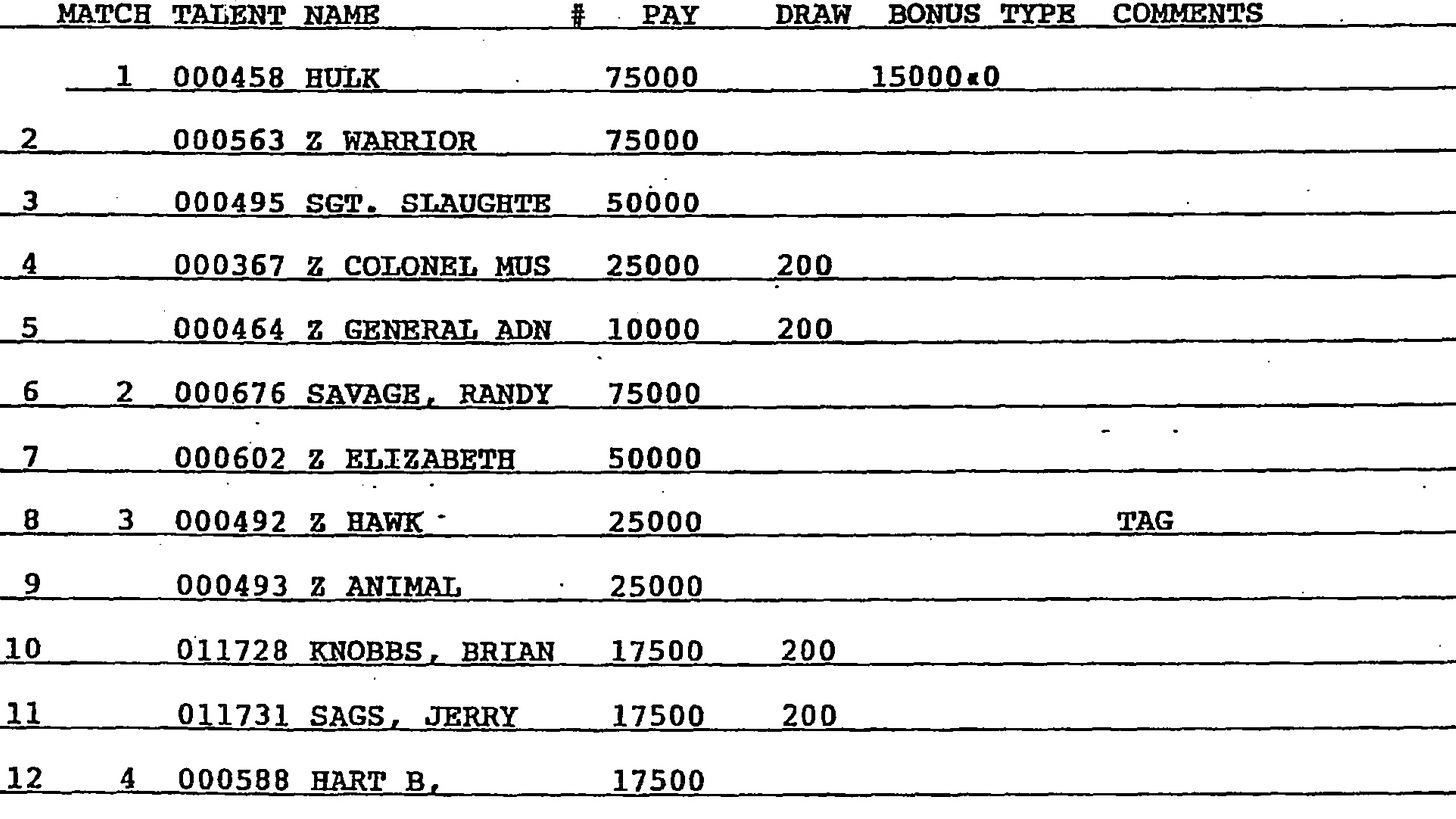 The relevant portion of the SummerSlam '91 payoff records. (Screenshot: Federal court records)
Hogan and Warrior both received $75,000 as base pay for the match. That sum was the biggest pay-off on the card, with Randy Savage (whose "wedding" to Miss Elizabeth closed the show) also getting $75,000. However, Hogan was the highest-paid talent on the card, since he also earned a $15,000 bonus for unspecified reasons. As far as the other main eventers went, Elizabeth and Slaughter both received $50,000, Sid and Mustafa were each paid $25,000, and Adnan got $10,000. The biggest non-main event pay-offs went to The Legion of Doom, who were paid $25,000 each.
In examining the show, something was clearly up with regard to Warrior. On-camera, it looked like he was being phased out, while behind the scenes it seemed he wasn't necessarily getting paid what he had been promised by McMahon. Another letter, dated the day of SummerSlam, was then hand- delivered to Warrior, presumably in the locker-room: he was officially being notified that he had been suspended. That communication is, in a word, brutal.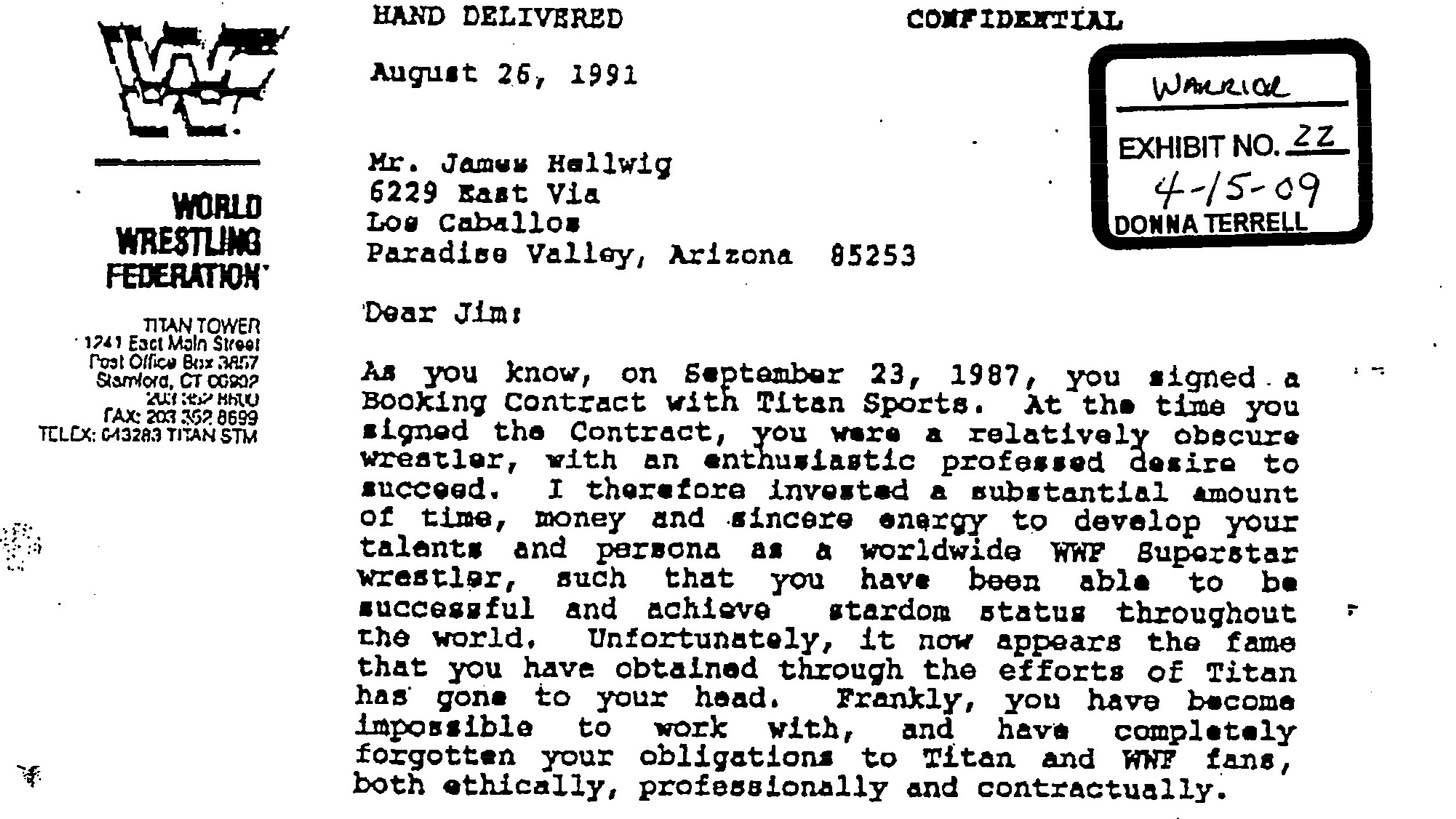 The introduction to Vince McMahon's August 26, 1991 letter to The Ultimate Warrior. (Screenshot: Federal court records)
[When you were signed] you were a relatively obscure wrestler with an enthusiastic professed desire to succeed. I therefore invested a substantial amount of time, money, and a sincere energy to develop your talents and person as a worldwide WWF Superstar wrestler, such that you have been able to be successful and achieve stardom status throughout the world. Unfortunately, it now appears the fame that you have obtained through the efforts of Titan has gone to your head. Frankly, you have become impossible to work with, and have completely forgotten your obligations to Titan and WWF fans, both ethically, professionally, and contractually.
McMahon goes on to explain that at the time of the letter, Warrior had been paid over $1.3 million in the year preceding, and that he couldn't fathom why Warrior would be upset with that.
Your principal complaint apparently is that you are not being compensated at the same rate as Hulk Hogan, although 'Hulk' is a living legend, is still much better known to the public, has wrestled longer, is the WWF champion, is in much greater demand for personal appearances, is a bigger star and draw at WWF events, is more dependable and is far more revered and respected by WWF fans and by the public at large.

You have become a legend in your own mind; you are certainly not entitled to vent your feelings by breaching and threatening to breach your Contract.
The terms cited as being breached regard no-showed dates without a legitimate cause (presumably the aforementioned late-July/early-August dates), a lack of co-operation with the event booking department, abuse given to fans, and threats to "stay at home" from events for which he was advertised.
Had I not agreed to your terms, then Titan would have lost its public credibility and goodwill and have been gravely harmed with cable companies and WWF fans who paid pay-per-view fees for SummerSlam.
McMahon classified Warrior's actions as "unreliable and erratic" before going on to detail the financial impact of having to change all of the cards from which he'd be removed. He then goes on to explain other terms of the contract, the terms of the suspension (a "temporary" suspension from his bookings), and that the July modifications to his deal won't be considered "valid or binding" because they were agreed to under duress. The letter ends with an invitation to discuss the matter further.
All Titan Sports personnel was informed of the suspension in a memorandum the following day.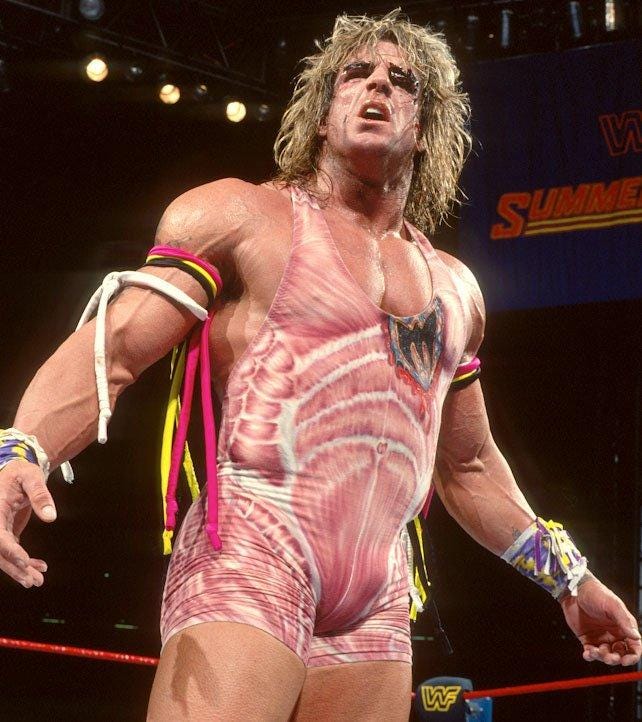 Warrior in his muscle singlet. (Photo: WWE.com)
Second stint: 1992
While suspended, Warrior disappeared from public view, but the babyface side of the WWF roster remained strong with the debut of Sid Justice, the increased push of Bret Hart, the return of Randy Savage, and the babyface turn of The Undertaker.
Even so, The Ultimate Warrior returned at WrestleMania VIII, having three days earlier signed a new contract that increased his royalty rate on merchandise beyond the standard amount paid to WWF talent. On the same day, Titan Sports received its first subpoena from the US Department of Justice, notifying them of a grand jury investigation into the company.
Under this intense scrutiny, the WWF had instituted a comprehensive drug testing programme covering a wide variety of bodybuilding drugs and intoxicants, having previously only tested for cocaine. From the second Warrior returned, his physical appearance was a topic of discussion among wrestlers, journalists, and fans of all ages; he was considerably smaller than before (albeit still with a ripped physique), beginning the long-standing rumours that "there were two Ultimate Warriors".
In a 1999 deposition, Vince McMahon explained the WWF landscape at this time.
[It] was very important that, at that time, given the scrutiny we were under, that everyone comply completely, as Mr. Hellwig had not done prior to SummerSlam of '91, on two occasions just prior to that. So it was very important that everyone, and not having any exceptions, comply with our drug policy.
Since the WWF did not test for steroids until November 1991, it's not clear to which failures McMahon may have been referring. It's possible that he was talking about an incident where Warrior left steroids in a Mariott hotel room after the February 3, 1991 house show in Landover, Maryland – something Warrior admitted to when he testified as a prosecution witness during McMahon's steroid distribution trial in 1994.
But just how well did Warrior comply in 1992?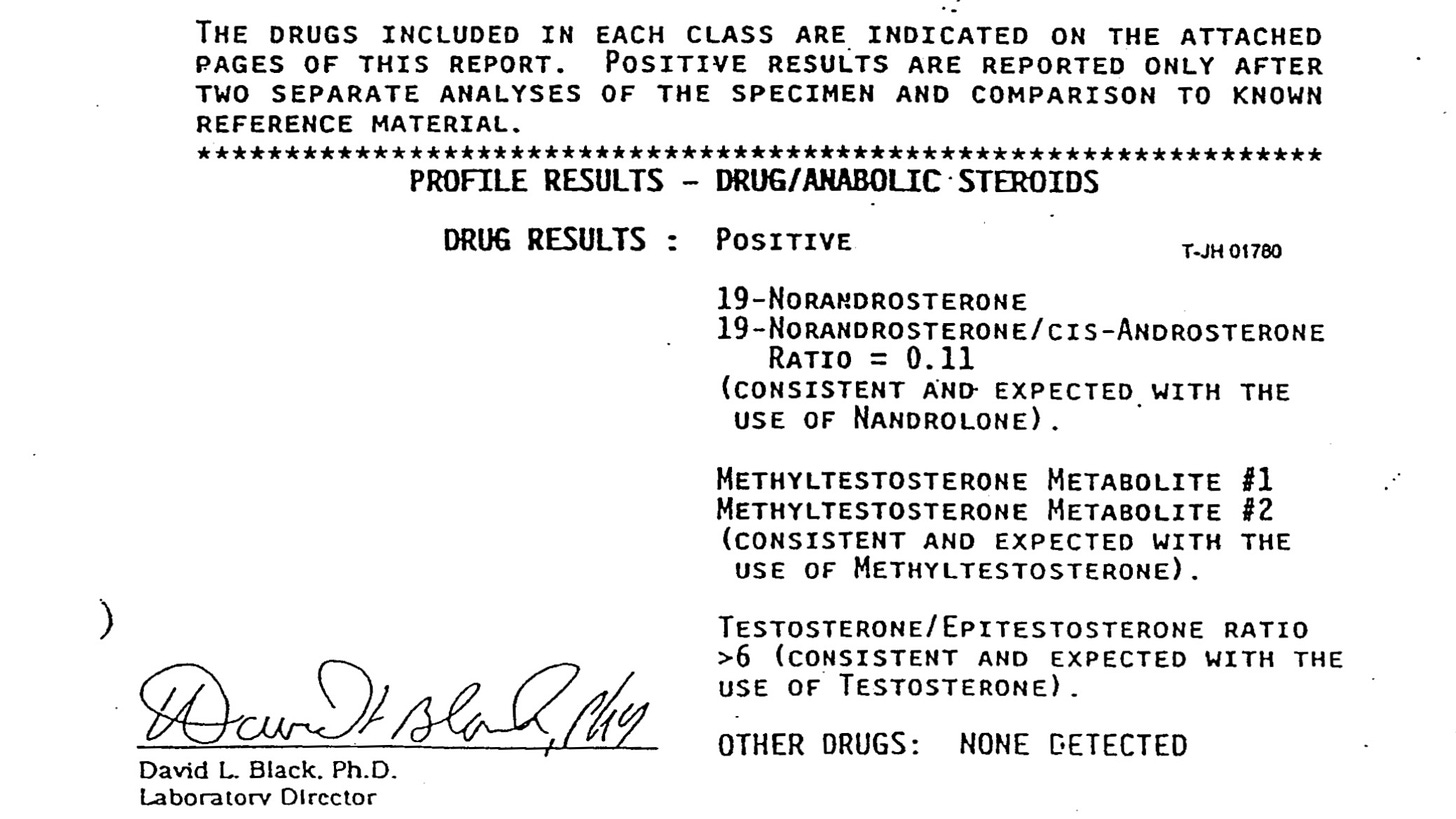 Oops. (Screenshot: Federal court records.)
In his baseline test taken one month after re-signing, he tested positive for codeine, morphine, nandrolone, and testosterone. In subsequent tests, while he rarely came back positive for painkillers, he always tested positive for some kind of steroid, either testosterone or nandrolone, with one test also coming up positive for methyltestosterone. In a 1999 deposition, Dr. Mauro Di Pasquale – hired by Vince McMahon in June 1992 to monitor the company's drug testing programme – explained that Warrior was never suspended because his levels of testosterone and nandrolone regularly decreased, while he believed Warrior's hypothesis that the methyltestosterone was from a contaminated supplement, since it only showed up once.
As all of this was going on, McMahon was still attempting to promote the World Bodybuilding Federation, also under the Titan Sports banner. The bodybuilders under contract maintained their physiques even though they were theoretically subject to the same drug tests as the wrestlers, who were suspicious of what was going on. Warrior elaborated on the topic when testifying to the grand jury investigating McMahon and Titan Sports in 1993.
[The wrestlers] were getting the crap knocked out of them and they could not take steroids and the bodybuilders were. I have never seen anyone taking steroids, but I have been working out in gyms for 20 years, and I know when somebody is and is not and I know the bodybuilders were taking steroids. And the rumor was that they were taking human growth [hormone].

When I came back, I had been living in Santa Fe, New Mexico for eight months and my priorities weren't how I looked or appeared every night in front of 20,000 people, so I came back at a lesser body weight, not as hard and lean, as muscular. And when I came back, Vince had acquired these bodybuilders and I knew they were taking steroids. I could afford it and so I sent $5,000 overseas through Davey Boy Smith, The British Bulldog. They didn't come for six weeks and finally, the package arrived. It was not sent to my house, to a friend's house, and it was all taped up in green tape that had 'U.S. Customs' all over.
According to the customs agent in Boston who filed the report, "the package was heavily taped and identified as a toy. Upon opening the package I discovered 12 combination packages of injectable steroid. Each box contained (1) IU of Genotropin and (1) 2mL vial of Somatropin, prescription steroids." The package was addressed to Wendell Robinson of Burlington, Massachusetts. [2019 note: Robinson was Warrior's driver, who also worked as an independent manager and promoter under the name Wendell Weatherbee.]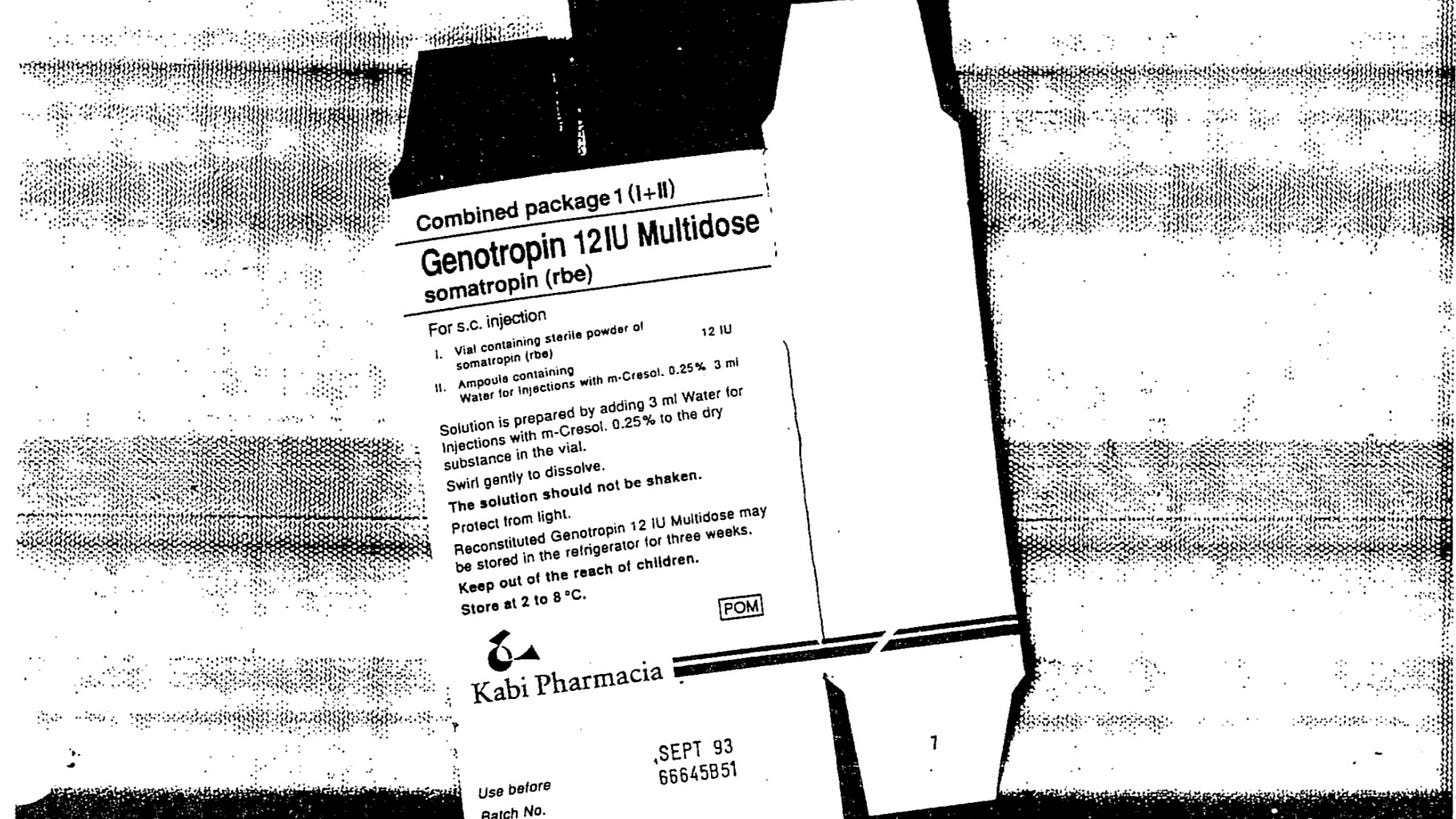 Oops again. (Screenshot: Federal court records)
After receiving "one empty box of growth hormone", Warrior decided not to pursue the matter.
By that time, two months had passed [since I returned to the WWF]. I had my diet back in order and priorities were straight. I didn't weigh as much as I did the first time, but because of changes in my diet and training habits and stuff, I created the same look on the TV and in arena light to make the people think it was the same package. So I said that I wasn't going to do the steroids.
It wasn't until a few months later that Warrior informed Vince McMahon of the HGH seizure. McMahon then called his lawyer, Jerry McDevitt, and started a weekend-long internal investigation.
This would be something that was of extreme importance, based on, again, what I said earlier of a grand jury investigation, you know, this rumor from someone in the federal prosecutor's office to [entertainment lawyer] Henry Holmes that there was some kind of international drug trafficking of some kind going on. This would have been a matter of great importance to me and my company.
On November 9, 1992, Warrior was fired for attempting to circumvent the WWF Drug Testing and Rehabilitation Policy, in the same sweep that also saw the departure of Davey Boy Smith. In March 1993, he filed a lawsuit alleging that, amongst other wrongdoing (such as unpaid wages), McMahon knew there was no scheme to import HGH, and thus wrongfully terminated their deal. Warrior's grand jury testimony, where he admitted he did pay for imported HGH, took place one month later. It remained a secret until it was released to McMahon's defence team during the discovery process, after Vince and Titan Sports were indicted that November.
Third time lucky: 1996
After being fired from the WWF, Warrior remained fairly visible, trying his hand at acting in 1993 in the direct-to-video action movie Firepower, selling merchandise through wrestling magazine ads (including a poster where he flipped you off while riding a motorcycle), and occasionally wrestling for promoters who could afford him. Most infamously, in 1995, he showed up in the National Wrestling Conference in Las Vegas against The Honky Tonk Man, before ending up in a business dispute with promoter T.C Martin. That year, he also worked a shot for Otto Wanz' Catch Wrestling Association in Germany, where he defeated local star Ulf Herman.
In early-1996, during the early part of the WWF's Monday Night War with WCW, McMahon re-signed Warrior for a return at WrestleMania XII, where he beat Triple-H. Warrior's new contract was notable for a number of customised terms, particularly an agreement that "Ultimate Warrior" trademarks would be transferred to Warrior from Titan Sports. He was to be paid a guaranteed $1 million for the 18-month duration of the contract, and if he worked more than 14 days in a month, he was to be paid $2,500 for each additional day. Warrior elected to forego "any additional compensation including, without limitation, royalties, residuals, and the like."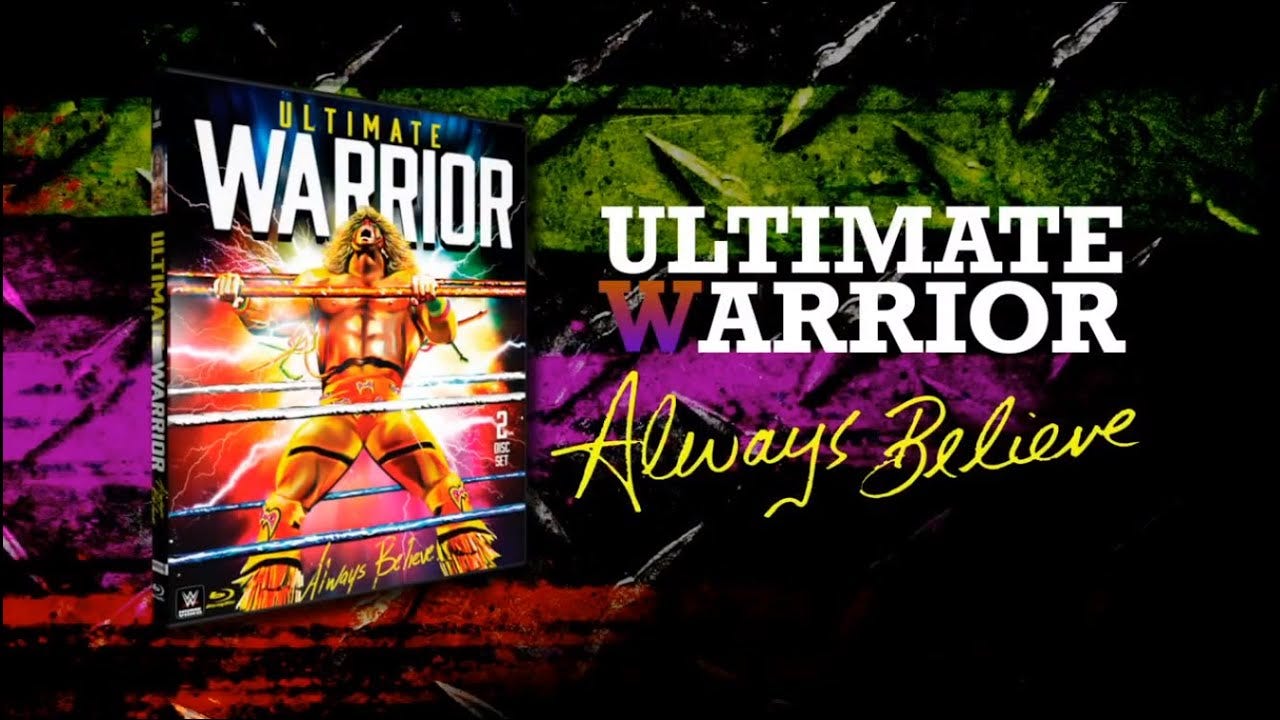 Eventually, they got permission. But "eventually" was a long time. (Screenshot: WWE)
But this time, he failed to last even three months. In late-June, at a licencing fair in New York, he was angered by what he alleged was improper use of his "Always Believe" slogan (which he had trademarked three weeks earlier) on WWE products. McMahon described the situation as follows:
As I recall, what happened on that was we had someone who subsequently was a thief, which we didn't know at the time. His name was Jim Bell. He was in charge of licensing. As I recall, Jim Bell had some sort of the 'Always Believe' insignia or call it what you will at the booth. And that's the first I heard of it, as I recall. And then Jim [Hellwig] went ballistic when he went there and subsequently decided, again, to take his ball and come home.
WWE sued Bell in October 2004, and in February 2005, he pleaded guilty to mail fraud in connection with receiving kickbacks for directing WWE to make licensing deals with certain companies.
Following the licencing fair, Warrior proceeded to no-show his bookings, starting with a house show in Indianapolis on June 28. At the time, it was reported that Warrior had, in fact, been in Indianapolis, but flew home after an argument during a phone call with McMahon. Later, McMahon claimed Warrior had threatened to stay home unless the WWF paid him for 100,000 magazines (ostensibly copies of his Warrior comic book) every month. McMahon recalled having pleaded with him not to break the relationship once more.
Don't make this mistake. This is, you know, business suicide, Jim, going home. This is the last straw, strike three. Don't do this, I'm begging you, don't do it.
When Warrior's no-shows became a public issue, he said he was taking time off to grieve for his father, who passed away on June 30. The next day, at the end of a post on the America Online service, Warrior issued this statement:
Since my return at WrestleMania in March there has from day one been contractual discussion for one reason... Titan Sports has not made the finalization of my contract a priority, yet I have fulfilled all aspects of the agreement we do have. Although the rumors speculate my recent no-show at the listed venues is contractually related... the truth is my father passed away. If resolving my personal issues and protecting the way I choose to believe puts me in the WWF doghouse as stated on the money-making 1-900# line... then so be it, bow-wow and kiss my ASS.

Always Believe — Warrior
Also on July 1, he was interviewed by Bob Ryder on the Prodigy service, where he reiterated that he no-showed because he was grieving with his family, even though, at two of the house shows, it was announced that "The Ultimate Warrior refuses to wrestle." He elaborated in that day's update on his Warrior Whereabouts Hotline.
I've been in contact with people in Florida that were aware of my father's condition, where he did pass away. I got a phone call that things were taking a turn, and I took the appropriate steps, made the appropriate phone calls, informed the appropriate people in regards to what I was preparing to do, and what I had to do. And that's the last time I heard anything about it until I got back into town this morning.
He went on to explain that he had no idea how his non-appearance was being characterised until listening to the answering machine message left by Ryder. However, that same day, he also wrote a letter asking the WWF to make a $25,000 payment to him for using "Always Believe" without permission. In recounting the June 28 phone call with Warrior, McMahon said he didn't learn of the death of Warrior's father until he read the Ryder interview. McMahon also repeated that Warrior hated his father, never had a relationship with him, and wouldn't have taken time off to grieve his death, even adding that Warrior had refused to pay funeral expenses when his sister asked for help.

The ultimate letterhead (Screenshot: Federal court records)
It wasn't until July 8, when Warrior returned home from the San Diego Comic Con, that he sent a fax to Vince and Linda McMahon stating that he was ready to return to work. That night on Raw, storyline WWF President Gorilla Monsoon more or less stated the company's real-life stance: Warrior wouldn't be wrestling until he posted a $250,000 appearance bond. Warrior continued to sit at home while his attorney attempted to resolve the situation, with the returning Sid (Justice) taking his bookings.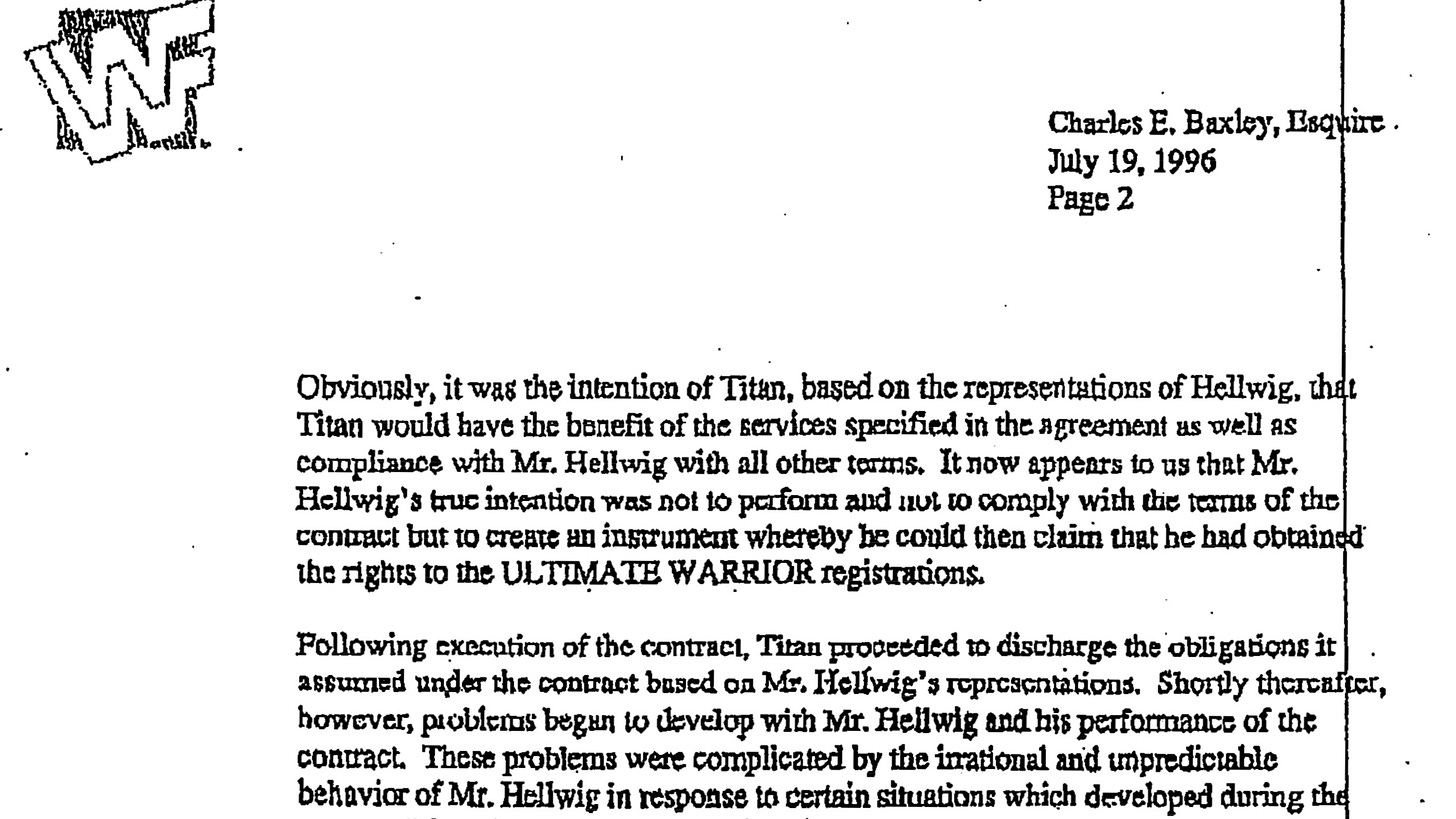 An excerpt from Linda's July 15, 1996 letter to The Ultimate Warrior. (Screenshot: Federal court records)
On July 19, a letter from Linda McMahon was faxed to Warrior's lawyer, Charles Baxley. The WWF's stance was that Warrior never intended to complete the term of his contract, and acted in bad faith to get the "Ultimate Warrior" trademarks signed over to him. After asserting that she believed Baxley was acting in good faith, she accused Warrior of negotiating with WCW, not paying legal fees owed to his previous lawyer, and also claimed that Titan Sports owned the trademarks in question because Warrior had breached the contract. The tone of the letter was markedly different from those Warrior had received from her in the past, which he claimed were often signed off from "Mom".
That was the end of Warrior's relationship with WWE until WWE 2K14 and the Hall of Fame. Except for a close call less than 18 months later.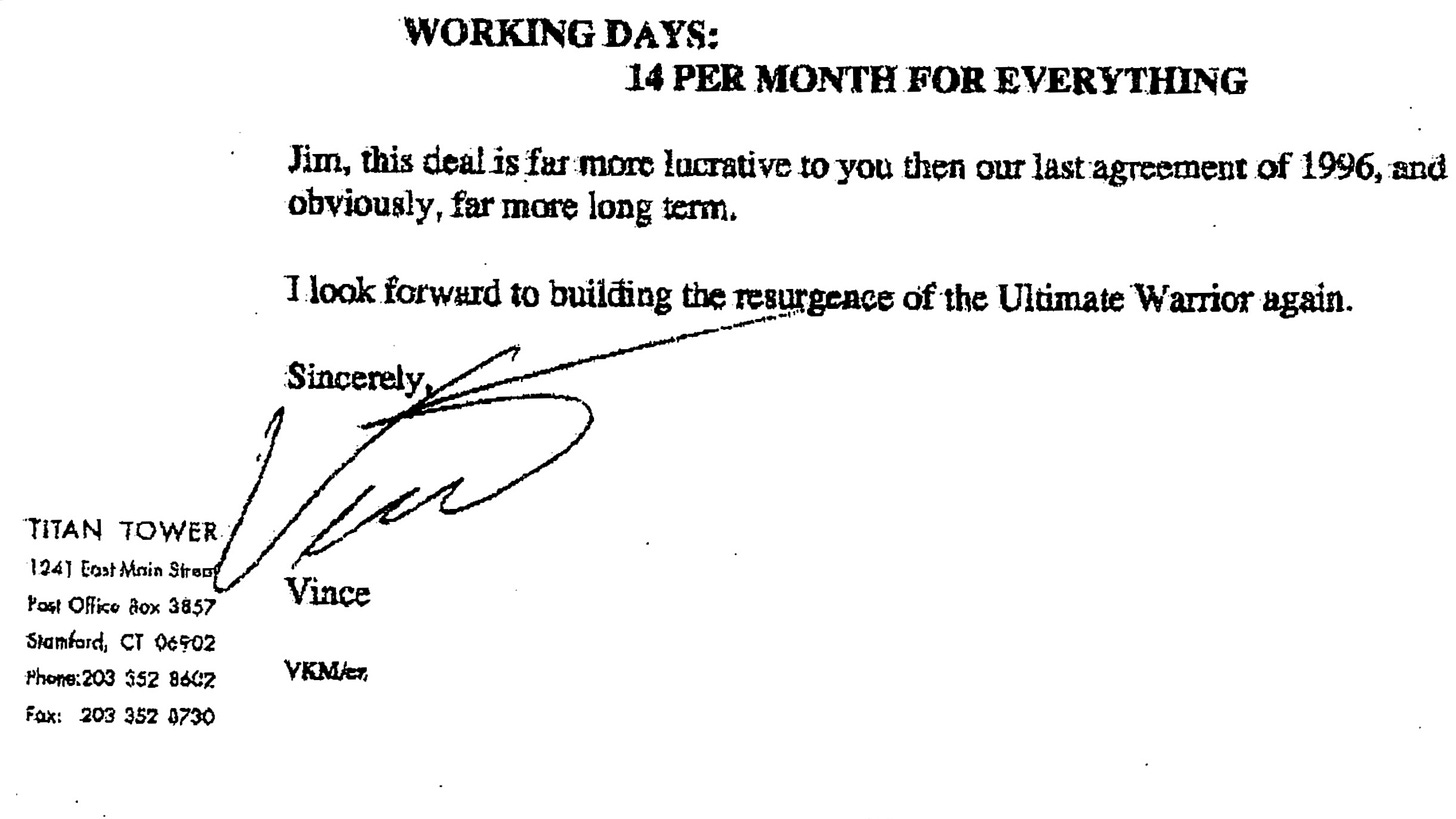 An excerpt from Vince McMahon's December 17, 1997 letter to The Ultimate Warrior. (Screenshot: Federal court records)
The More Things Change... 1997
Jim, this deal is far more lucrative to you then our last agreement of 1996, and obviously, far more long term. I look forward to building the resurgence of the Ultimate Warrior again.
It was widely believed that, aside from early talks for co-operation on the DVD that became The Self-Destruction of The Ultimate Warrior in 2005, there were no overtures for a renewed relationship until 2013. But that is not the case.
On December 17, 1997, a little more than a month after The Montreal Screwjob, McMahon personally sent a letter to Warrior offering a deal to return to the WWF. While financial issues got the ball rolling on Bret Hart's departure, and Warrior was, theoretically, not going to be the top babyface with Steve Austin on the ascent, the terms offered were sweet: five years at a guaranteed $750,000 per annum, plus royalties (35% on merchandise when all other talent was paid 25%) and a maximum of 14 days per month of work "for everything". When asked during his 2009 deposition why he went to Warrior again, McMahon did not remember.
I don't know. I guess I'm a glutton for punishment here.
With all legal issues settled, WWE and Warrior began talking last year, resulting in a Hall of Fame induction that will mark the first time he's appeared on live WWE programming in almost 18 years. Although the Hall of Fame was available on digital pay-per-view in 2013, this year it will be seen by vastly greater numbers, thanks to the WWE Network.
For many reasons, then, one hopes that both sides now realise that they are better friends than enemies.