The New Age of Punk: A look at how surprising CM Punk's 2014 retirement...wasn't
Originally published in Fighting Spirit Magazine in June 2014; this feature examines how CM Punk had telegraphed his retirement for years.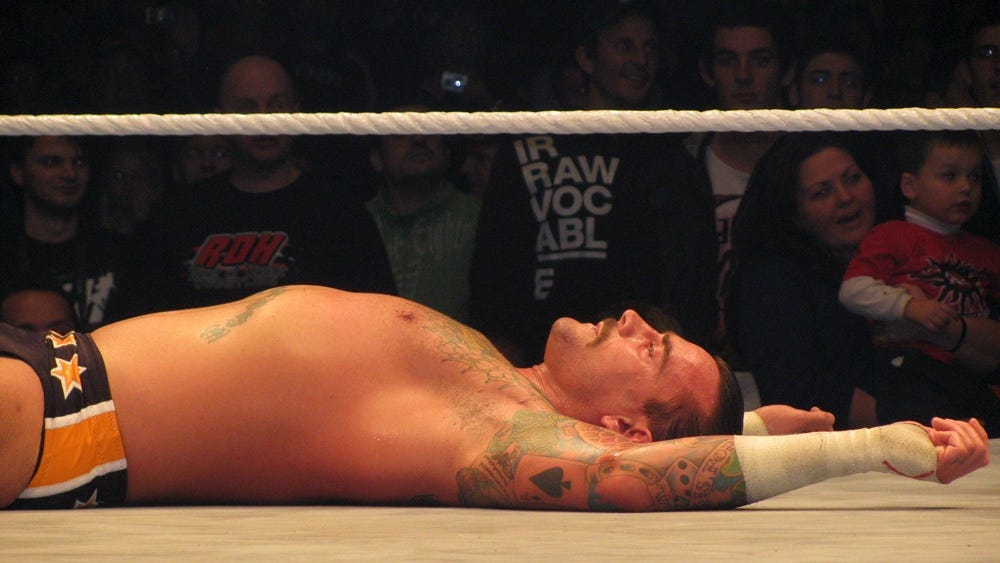 A downed CM Punk in Australia in July 2011, right in the middle of the period where he became the hottest star in the wrestling business.(Photo: Krystal Bogner under Creative Commons license.)
Enjoy? Want to support this work and get other exclusive content? Then please subscribe for just $5/month or $50/year. Even if you're not able to pay right now, please at least consider signing up for the free version, which will deliver all of the free posts directly to your email inbox, as well free preview excerpts of the paid subscriber-exclusive articles.
In light of Kylie Rae going radio silent en route to a release from AEW and a return to indie wrestling at Saturday's Freelance show in Chicago, this feels like a good time to go to another Fighting Spirit Magazine article of mine from 2014. This one looks at the unconventionally-announced retirement of CM Punk, and how, even with his bizarre radio silence after leaving WWE, nothing about the situation was particularly surprising. It's obviously very different from whatever the hell is going on with Kylie Rae, but there's not much else to compare it to, so let's take a look.
---
Whatever is going on with CM Punk, it has been a regular topic of discussion in the wrestling world for months. It was wishful thinking to act like he was returning to WWE any time soon, and much moreso to state that he would take bookings with companies like Ring of Honor. Still, the suggestion that he would eventually return was not unreasonable at all.
Until now.
As retirement announcements go, CM Punk's is one of the strangest in memory. In fact, it wasn't even an announcement per se, as with his permission, his close friend Natalie Slater wrote an article for an alternative newspaper in Chicago about his recent issues with stalkers camping outside his home. In the piece, Slater casually mentioned that he was retired, and when pushed on it on Twitter, she made it clear that she was not using a shorthand term – she was using the same words as he was.
CM Punk is not coming back.
FOUNTAIN OF TRUTH
Punk had never kept it a secret that he wanted to retire young. In 2003, after fracturing his skull, he stressed his desire to go out on his own terms when talking to the Chicago Wrestling website.
"I'm not gonna jump off a four-story building, but I never think I'll have to retire because of something I do. I do what I do. If that winds up being it, so be it. But I can't think that way – I'm not that pessimistic."
When he was signed by WWE in 2005, Punk spoke to SLAM! Wrestling about his goals for the future, and while he didn't mention his time-frame for retirement, he offered a vivid impression of his mindset.
"[My goal is] to have invested whatever money I have made in the next year into something that is going to grow and make more money for me if I was to ever not be able to wrestle. My goal is to have a condo in Chicago, a bulldog named Dynamite, and maybe a Starbucks."
It got a lot more overt a couple years ago, in May 2012, when he said on Twitter that his retirement was coming "way sooner than you think."
During a question-and-answer session at Wizard World Chicago three months later, he spoke in a lot more detail on the topic.
"Well, I know a lot of people in my industry say, 'Oh, I don't wanna do this forever', but I don't want to do this forever... I'm very goal-oriented – I need to find out what's next. I can't really put a time on it, but it would depress the hell out of all of you, I think."
"I could go on about this. I'm not broken down, I'm not beat up... yet. I just don't want to get to that point. I had my elbow scoped two years ago [and] I never want to have another surgery as long as I live.
"Surgery was the most un-fun thing I've ever had in my entire life. Maybe that has to do with me refusing any and all painkillers, but it's nothing I ever wanna do [again]. I don't ever wanna have anyone pull a set of human teeth out of my elbow ever again. I don't wanna cough up anesthesia again for three days. And for what? To make a comeback and get back in the ring?
"This is a young man's sport. I'm gonna be 34 in a couple [of] months. To me, that's not young for what we do, and this isn't a slight for anyone who's still doing it – not Nash, not Hunter, not anybody – but I don't want to be their age and still doing this. If I am in 10 years? Somebody please stop me. I think it would be pretty refreshing to do everything and just [say] 'Peace out.'"
So when it comes to why Punk retired, there are no question marks. If he hadn't walked out on January 27, he probably would have retired in July, when his contract expires. It still would have been a big deal, but it wouldn't have been a surprise, especially since he tweeted, "I don't have many of these left in me" after a December show in Detroit.
The big question, however, is what specifically drove him to be so fed up that he retired by walking out of WWE 30 minutes before the post-Royal Rumble edition of Raw went on the air? Aside from the knowledge that he was unhappy about both his storylines and his remuneration for working them, there is almost no information about what happened in the immediate lead-up to him quitting.
We do, however, know how he became the man that he is today.
HOT DISPUTE
Punk has always been outspoken, whether it was backstage, or publicly in interviews and social media posts. To some, that made his silence in the last several months even more conspicuous.
In the year 2000, when a buzz first developed around him, Punk was most identified with Ian Rotten's IWA Mid-South in Indiana. IWA:MS was the rare independent in the Midwest that ran weekly, and between the regular bookings and access to veterans like Tracy Smothers, Todd Morton, and Bull Pain, it was major part of the development of guys like CM Punk, Colt Cabana, and Chris Hero.
By 2003, Punk and Hero were the signature stars of the company. When the promotion ran its 300thshow that same year, Punk told Chicago Wrestling about what the company meant to him.
"Well, it's not the land of milk and honey – you're not going to get a huge payday out of it. But in all my times of going down to IWA, I've made some very, very special friends. I'd like to think I've made some matches that people won't ever forget. It's always been a great place to learn for green kids, and most everybody down there gives it their all when they're in the ring."
Later that year, though, he effectively quit the promotion, and he did it publicly, once again via Chicago Wrestling.
"I'm done with IWA. I haven't talked to Ian [Rotten] yet, but we've played phone tag... I disagree with a lot that Ian does, business-wise. I like Ian, and I don't want that to change. The best thing I can do is bow out and not work IWA anymore. I don't want to argue with him. It's his show and he can run it the way he does, but some of the stuff he does is a real slap in the face to the guys who bust their ass and work really hard for him."
"IWA has a bad reputation, but you got to get the most out of the situation," he explained later. "I'll get peeved if somebody says IWA is the promotion that made me. That isn't true; I was working for IWA and a million other feds. Ian, just being smart, booked me with names and I learnt from them, but he did that for his product, not solely for me. He did what he had to do to make his product better, and I did what I had to do to become a better wrestler. CM Punk didn't make IWA, and IWA certainly didn't make CM Punk."
When pressed for a reason that he was going to stop working there, he pointed a finger at Rotten's latest business arrangement.
"I'll tell you what it is: it's him working with CZW... The last time Hero was in CZW, these guys beat him up and jobbed him out, and that was disrespectful."
Speaking to FSM for this article, however, Rotten said that he feels that wasn't the real reason.
"To this day, I'm not even too sure why he pulled the shit where he didn't work for me for like a year. I think it was to try to get more money, really, 'cause let me tell you something, when he came back, his price was a whole hell of a lot different.
"Does anybody think I was happy with [what happened to Hero in CZW]? I tried to book Justice Pain versus Hero in IWA. Justice Pain just wasn't dumb! He knew he was coming here to get his ass kicked. I totally feel that's an excuse."
Rotten then elaborated on how he felt Punk's attitude changed at the time.
"As he got better and better in the ring, I think he thought he became too good for IWA. A lot of guys that were there in that time period will tell you the same thing; that's normally why, if you ask [them], especially the death match guys, 'What's your opinion of CM Punk?' [then they'll say] 'Fuck CM Punk.' I hear it all the time. They know he wouldn't have become too good if he wasn't in that atmosphere."
As Rotten alluded to, Punk did return around one year later, downplaying that there was much in the way of heat.
"There really is no story," he said at the time. "Every single month since I left IWA, Ian has asked me back, and I kept saying no. I just felt like the time was right to come back."
Punk was still working IWA shows when he was signed by WWE in 2005, so it seemed like they parted amicably. In spite of that, once he was in WWE, Punk made a habit of repeatedly claiming, in public, that Rotten owed him approximately $1,500. Rotten insists that while he did owe money to Punk, it wasn't close to that much, and that there was a good reason for his reluctance to pay up.
"[Punk] got on the microphone without my knowledge, said some things that could be construed as libel, and the next thing you know, I'm on the phone with [a rival promoter, and he's] talking about suing me... We paid a settlement, over Punk's words, of about $1,000. A lot of times, I think Punk justifies things in his mind and in his beliefs that isn't the best route to go."
Rotten maintains it was that which led to the disagreement over what was owed, since he took the $1,000 out of Punk's pay when they were settling up, describing his mindset as, "I'm not eating that. I'm taking that out of what I owe you."
As for why he thinks Punk kept bringing up the debt long past the point that he had any need for the money, Rotten made his point with a laugh.
"He's Punk!"
THE HARD GRIND
As much as the grind eventually got to him in WWE, Punk embraced it on the independent scene. In 2001, he told Chicago Wrestling that it was a point of pride, especially the 88-weekend streak that only ended when he fractured his skull.
"I've sacrificed going to see my best friend's graduation. I had to work. I've sacrificed seeing my best friends get married. And it's, 'Hey, you gonna come to my wedding?' No, I'm going to be in Detroit to wrestle. And I feel bad, but I don't, because I know someday it's going to pay off. I like being recognized as the hardest-working independent wrestler. Nobody can say they haven't had a week off in
eight months. Nobody can say that."
At the time of that interview, Punk still had a day job working at Underwriters Laboratories.
"He always had this industrial glue like they had in the movie The Blues Brothers," remembered Ian Rotten. "That was one of Punk's ribs – that he'd put this glue on people's boots and then stick them to the ceiling."
By the summer of 2003, though, pro wrestling was Punk's only job.
"I think a lot of people have put me in a category with Christopher Daniels and AJ Styles, and that's great company," Punk surmised. "This is what we do. My job is wrestling. I send out anywhere between 12-15 tapes a week, [and] I'm constantly in the gym working out. I wrestle every Wednesday, Friday, Saturday, Sunday. This is all I do. It's a lot of travel, but I would have it no other way."
The interviewer, Al Lagattolla, followed up by asking about going to work for WWE, on the schedule that's been known to burn athletes out. Punk, however, did not seem fazed.
"At the end of a week doing house shows and TV, I can see how a guy can get really burnt out. Then you can go home and spend maybe a day with your family, and you do it all over again.
"No, I'm not going to be burnt out. There's no way. If I feel like I'm getting burnt out, I'll just take a nap."
It's likely that he wasn't accounting for some of the other variables that make WWE different, especially as a top star. Media obligations require top talent to keep even more odd hours than the average performer, and perhaps more importantly, the quantity and quality of the fan interaction is simultaneously much greater and more of a mixed bag, respectively.
THE COST OF FAME
Stories about Punk's interactions with fans have become almost as legendary as the "When I met Punk, he was an asshole" stories, perhaps unfairly told by wrestlers themselves. Many such tales have come from an exasperated Punk, rattled by non-fans who tried to get his autograph when they saw him being accosted by people who actually followed his career, as well as autograph-seekers who would do things like yank his headphones off, and so on. That's not to say that independent wrestling doesn't have its share of needy fans, but being a television celebrity to millions of people changed his life in ways that it doesn't seem he anticipated.
There are some people, like John Cena, who are wired in a way that this doesn't seem to get to them, but until opening up in his Best In The World documentary, Punk was incredibly guarded about his family life. In one radio interview, when asked about his estranged brother Mike, he claimed, in a non- joking way, that he had no idea what the host was talking about. Another time, he spun a story about meeting Samoa Joe at the 1984 Summer Olympics in Los Angeles, claiming that his father competed in a track and field event while Joe's family performed in the opening ceremonies. Not a word of it was true.
As much as he tried to keep his romantic life private, Punk's understandable habit of dating within the business made that impossible, and he had to endure internet gossip speculating about the significance of one ex-girlfriend unfollowing him on Twitter. Furthermore, a year ago, news of a restraining order he took out against his mother hit TMZ.
There are coping mechanisms, like the camaraderie of road trips, that help wrestlers deal with the schedule and the travel, but that barely helps with the invasions of privacy that come with celebrity. This became crystal clear when he had to indirectly plea for fans to leave him alone. He went into detail about how run down he was just three days before he walked out.
"There's a lot of miles on me. Right now, I feel a lot better than I have. There was the three months there, for a while, where I felt really, really horrible, and then we were trying to figure out what was wrong, and I think I was literally getting a MRI a week, and blood work, and all this stuff, to just try to narrow down exactly what was wrong with me."
CM Punk is a guy who was always, eventually, going to get fed up. Why should anyone be surprised? It already happened three years ago, when his last contract was up, and he has a lot more physical and emotional mileage on him now. He stayed in WWE because his disinterest in staying helped him backdoor into the main event push he wanted, and as a result, he never recharged.
"I just think I've been doing it for so long... [it's an] 'I'm not tired, I'm exhausted' kind of thing," Punk concisely explained. "A break is probably the only thing that's gonna make me feel better."
Enjoy? Want to support this work and get other exclusive content? Then please subscribe for just $5/month or $50/year. Even if you're not able to pay right now, please at least consider signing up for the free version, which will deliver all of the free posts directly to your email inbox, as well free preview excerpts of the paid subscriber-exclusive articles.