My Other Stuff for June 24, 2019
New Between The Sheets & a Deadspin article Re: WWE unearthing the Crockett Cup '86 raw footage.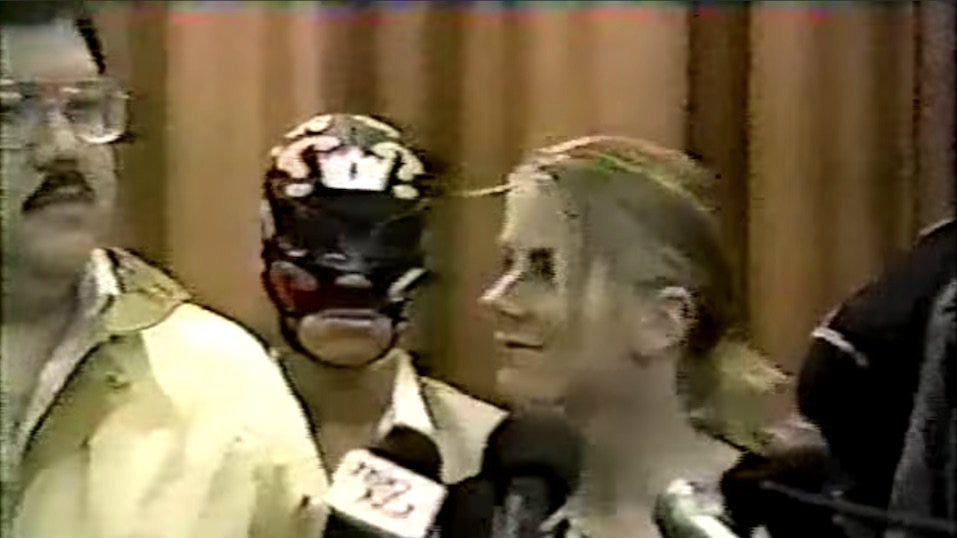 Antonio Peña, Rey Misterio Jr., and Tonya Harding at the press conference for the disgraced Olympic figure skater's debut as a pro wrestling valet. (Screenshot: CNN)
Independent of this humble Substack, here's what's new:
Kris Zellner and myself have a new episode of Between The Sheets up, as we're joined by AIW promoter John Thorne to talk the week that was June 19-25, 1994. WWF King of the Ring '94 with Art Donovan's infamous commentary, WCW Clash of the Champions 27 with spoilers airing on Main Event by mistake a few days earlier, Tonya Harding's brief flirtation with pro wrestling bombs, a free preview of the new mailbag for BTS Patreon supporters, and much more.

Oh yeah, that new mailbag did go up over the weekend on the Between The Sheets Patreon page for $5+/month Patrons. Topics include 2010s weeks we think would make for good episodes down the line, the various original plans for Starrcade '88, Bix's Friend Jerry, which of Ric Flair's ill-advised heel turns is the worst, favorite Samoan and Tongan wrestlers, how the Rockers split would have gone if Marty Jannetty wasn't fired, and much more!

I have a new blog up at Deadspin looking at WWE releasing the raw footage (well, missing the first five matches for some reason) of the first annual Jim Crockett Sr. Memorial Cup from 1986. The rarity of the official, edited home video version from '86 is discussed, as is the legacy of The Fantastics vs. The Sheepherders match (available complete for the first time) and more.
That's it for now. More proper #content here at Babyface v. Heel later, of course.
Enjoy!