Email shows WWE cancelled Candy Cartwright 'extra' booking in January
Drake Wuertz cited "past issues" with "one of our talent."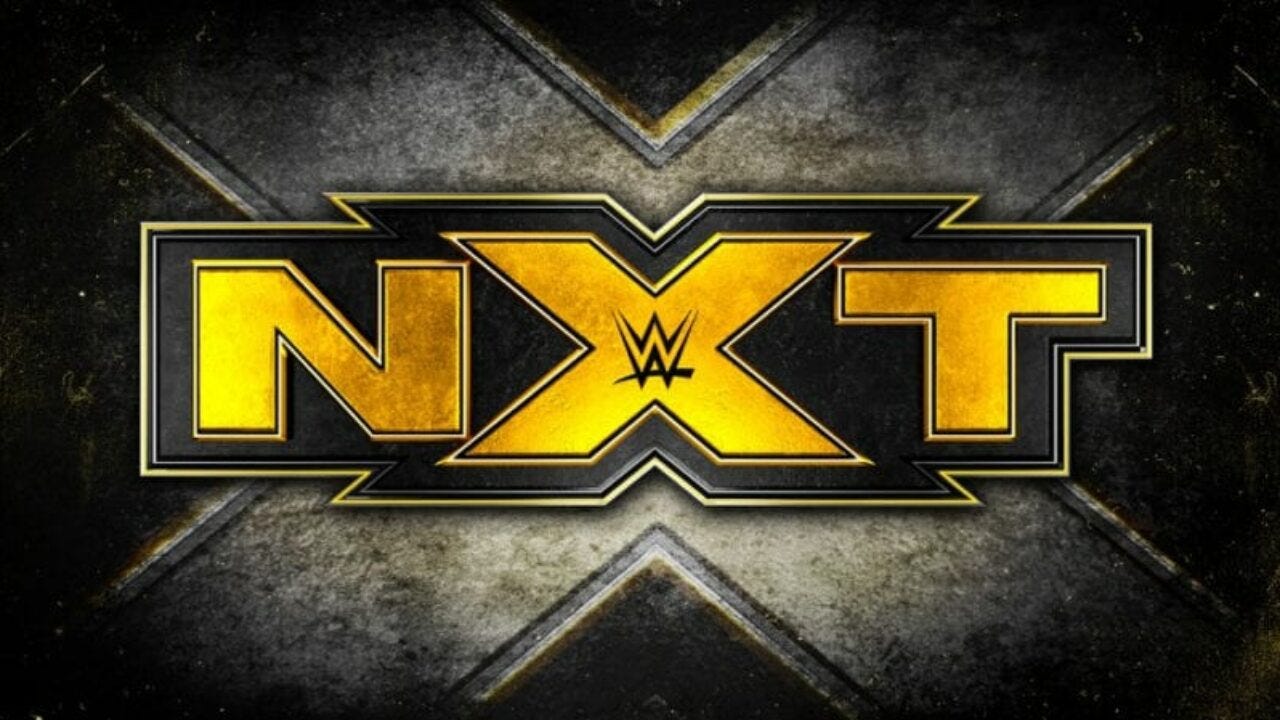 WWE's NXT logo. (Image source: WWE.com)
On Thursday, via a press conference in Chicago, news broke that Samantha "Candy Cartwright" Tavel was suing Matt Riddle, WWE, Evolve Wrestling Inc., and Evolve/NXT staffer Gabe Sapolsky in local Cook County Court over violations of the Gender Violence Act. (Tavel accused Riddle of assaulting her in Cook County.) Most of the allegations in the complaint (Content Warning: Contains descriptions of sexual assault) won't be new to those who have been following Tavel's allegations and Riddle's subsequent attempt at getting a restraining order against her. There is one exception to that, though: That she alleges that she had bookings with WWE that "were terminated due to 'issues with the talent.'"
Later on Thursday, in a post on his the Wrestling Observer message board for paid subscribers, Observer editor Dave Meltzer chimed in on that part of the story. "If there's any evidence of WWE bookings in 2020 for her, that would be ominous," he wrote. "If there aren't, that would be as well on the other side. It's hard for me to imagine they would have booked her this year given this is not a new story and WWE has known about it for a long time. But if they hadn't, her claiming she had bookings and it not being true is something that needlessly kills her credibility, which she would need. So neither version makes sense on the surface."
Making such a claim without proof would indeed be a potential credibility killer, and especially so after Tavel's Florida attorney shined a spotlight on the questionable state of Riddle's evidence in the restraining order case. In 2020, it really shouldn't be hard for Tavel to prove she was booked, only to be unbooked over what would be perceived as her issues with Riddle. Sure enough, there's proof.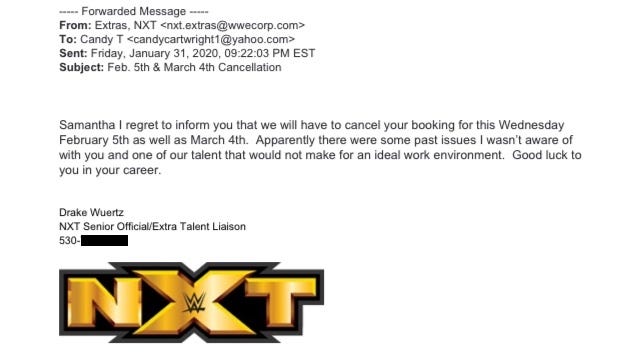 Screenshot of the email in question as it was presented in the exhibit prepared for the restraining order hearing. All redactions in the PDF linked below but the last one—Drake Wuertz's work phone number—were in the original.
"Samantha[,] I regret to inform you that we will have to cancel your booking for this Wednesday[,] February 5th[,] as well as March 4th," wrote NXT Extra Talent Liaison Drake Wuertz in an email that was submitted as part of an evidence packet for the hearing that had been scheduled to adjudicate Riddle's request for a restraining order. (The one that was cancelled when Riddle dropped the case 36 hours out.) "Apparently[,] there were some past issues I wasn't aware of with you and one of our talent that would not make for an ideal work environment. Good luck to you in your career." The email was sent at 9:22 p.m. ET on January 31st, the same date mentioned by Tavel in the Cook County complaint.
As of this writing, WWE has not responded to an email requesting comment on this specific allegation and the existence of evidence backing it up. Their only statement on the matter as of this writing, initially released to Sean Ross Sapp of Fightful.com, reads as follows:
WWE has not been served with a lawsuit by Ms. Tavel. However, if served, we will vigorously defend ourselves and contest it.
Sapolsky, meanwhile, responded to a message from Sapp requesting comment on the lawsuit by saying "news to me."
Evidence of Tavel's WWE extra booking also further calls into question Riddle's repeated claims that she had showed up at Full Sail University at some point and made a scene that warranted being escorted off the premises. After Riddle initially made vague claims that this happened in "February," an item in the Wrestling Observer Newsletter pegged it as an earlier date, December 19, 2019, a day where there was no NXT event at Full Sail. And if the Riddle camp is now insisting that such an incident happened in 2019, it strains credulity to suggest that Drake Wuertz of all people—as both NXT's top referee and a talent relations staffer—wouldn't have known about it.
Anyone affected by domestic abuse and needing support can call the National Domestic Violence Hotline at 1−800−799−7233 or TTY 1−800−787−3224. Those unable to speak safely should visit TheHotline.org or text LOVEIS tp 1-866-331-9474.