Decoding the GWF, 'Olu Oliami,' & Nigerian scams
Most of us never heard of Nigerian advance fee scams until they took over our email inboxes. We were the lucky ones.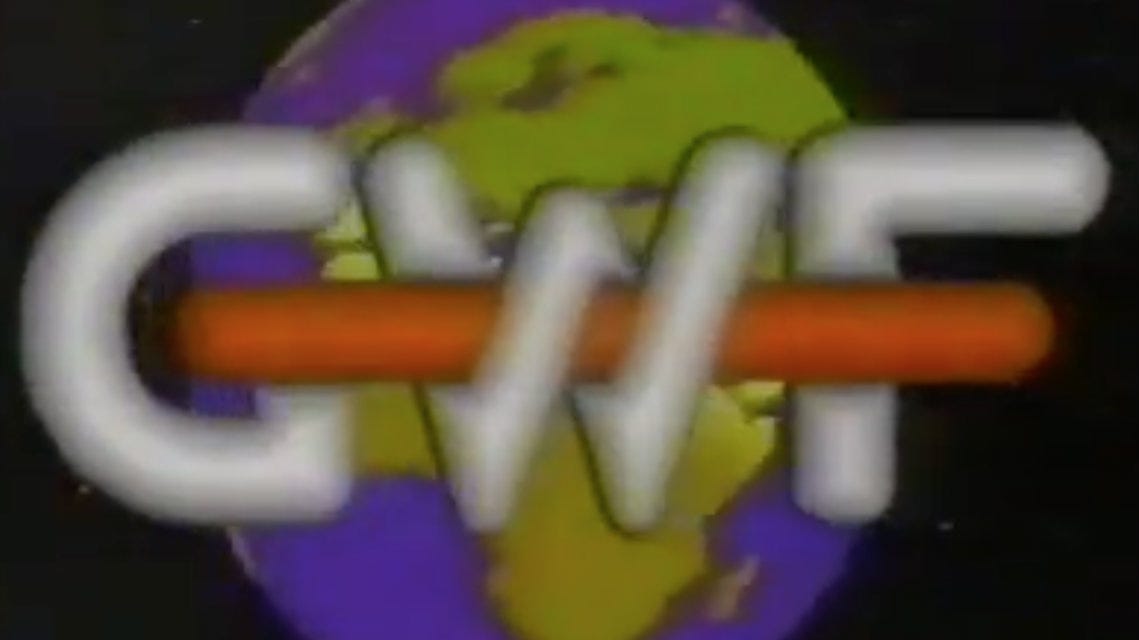 The GWF logo from the GWF Main Event opening in 1991 (Screenshot: YouTube/WWE)
If you've followed my writing and podcasting for any length of time, you're aware that a favorite topic of mine is the Global Wrestling Federation, both the actual promotion and its origin story. Well…much more on podcasts than in writing. I've never had that much of an opportunity to write about it in depth—and never really bothered pursuing pitches to do so because Joe Pedicino, the man at the center, has no interest in discussing it. He clearly moved on past all that decades ago, and you can't really blame him, since it was embarrassing and resulted in him famously being branded a "fool or liar" by Bruce Mitchell in the Pro Wrestling Torch. While Joe's friends who worked for Global are willing to discuss it/have defended him when it's come up, any attempt at a proper deep dive would be lacking something.
For those unfamiliar with what happened, this is the gist: According to Pedicino in interviews he gave starting in September 1990, a fan, Olu Oliami, had approached him on behalf of a larger company based in his native Nigeria. "[GWF parent company] Kongi Sports and Entertainment is backed by a company with major holdings in Africa, the United States, and Japan" that was "primarily involved in oil, gold, land, and banking until now," he told Steve Beverly in the September 10-16, 1990 issue of Matwatch, adding that they recently made the call to "get into the entertainment field." Even if you don't know this story, you're on the internet in 2019, so you probably saw red flags as soon as you read the word "Nigeria." This interview and subsequent ones, as well as reports that clearly weren't checked close to well enough—then devolves into talk of international banks, international trusts, $25 million in funding, and so on.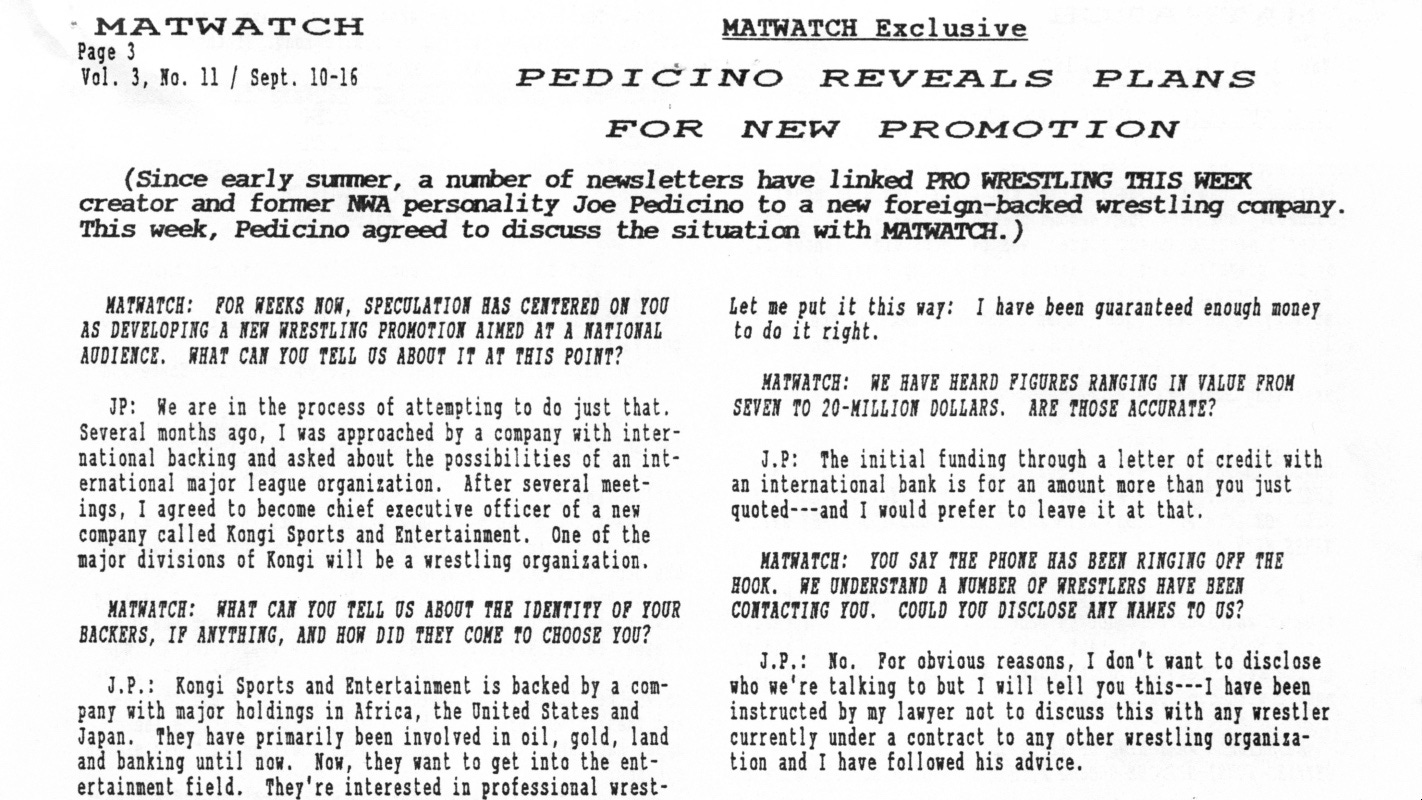 The opening of the September 10, 1990 interview with Joe Pedicino in Matwatch
At the time, the big three wrestling industry newsletters (Dave Meltzer's Wrestling Observer Newsletter, Beverly's Matwatch, and Wade Keller's Pro Wrestling Torch) all covered the story in detail, albeit missing obvious red flags. (Most glaringly, the location of the trust funding the operation would change without explanation.) Only Meltzer, the one reporting on wrestling the longest, showed any real skepticism. "Now the real question," he wrote in the November 26, 1990 issue of the Observer. "How much will get done and can it be successful. After all, we've had two recent parallel stories and claims. In fact, the initial claims for this promotion, and even some of the initial names are awfully reminiscent of Herb Abrams' claims when he started the UWF."
Although still months away from bouncing checks on the regular, Abrams had been viewed as, at best, an eccentric grifter the whole time he had been around, going back to announcing at his inaugural press conference in August that his promotion would include Blackjack Mulligan (in federal prison on counterfeiting charges) and Bruiser Brody (murdered in a Puerto Rican locker room two years earlier). It's not a comparison anyone would welcome. Still, Kongi Sports and its GWF were, at least broadly, being treated as a real thing, including in a Pittsburgh Post-Gazette newspaper profile about the prospects of manager Brian Hildebrand by Torch columnist Mark Madden.
In the 2010s, though, through the lens of the knowledge we have now of both the prevalence of "advance fee"/"419" scams out of Nigeria and that "Olu Oliami" never came through with the money, the common narrative eventually took hold: Pedicino got caught up in a scam and had to find a way out. That he won't really talk means there are gaps in the story—we don't really know what Joe put in, what Oliami put in this or got out of it before he was found out, or how exactly the subsequent investors, Carol Overstreet Lindsey and son Danny, took over—has clouded it quite a bit, though. And even before the internet prevalence of 419 scams out of Nigeria, there was additional skepticism of Pedicino. That fire getting fueled by the aforementioned Torch column in the August 27, 1992 issue, which came out a few months after Pedicino and friends were completely excommunicated from the company. Was Oliami even real? After all, when he showed up on USWA Challenge to kick off the originally-planned introduction of the GWF, everything else we saw was a wrestling angle.
If you want to hear more about the nuts and bolts week by week, Kris Zellner and I covered it in a Patreon-exclusive episode of Between The Sheets last year; you can hear a free preview here. (This is not me trying to filter you into all of my subscription endeavors; it just happens to the deepest dive you'll find on the topic and it also happens to be an episode we're incredibly proud of as probably the best we've ever done.) This post is not about rehashing/repeating what's on that podcast, even if there's overlap, though.
A lot of the details we do have were filled in by the response to Mitchell's column, with the Torch running two and a half pages of letters the following week (the September 3, 1992 issue, available to Torch subscribers) from his friends: GWF announcers Steven "De Truth" Prazak and Scott Hudson (jointly), fellow GWF announcer John "Craig Johnson" Horton, former Matwatch editor Steve Beverly, and Dallas indie manager/sometimes newsletter writer/short-lived GWF announcer Freddie Fargo. (Torch editor Wade Keller also had a page-long rebuttal that ran in response to Fargo's letter, as it was the longest one and the one most densely packed with information.)
"Olu Oliami neither came knocking on Pedicino's door, nor was he a figment of Joe's imagination," wrote Fargo before delving deeper (I've changed every misspelled mention of "Lindsay" to "Lindsey" because I didn't want to add "[sic]" every time):
In fact (or word that Bruce needs to look up in his Webster's), Oliami had been a business associate of Carol Lindsey's for a couple of years before Pedicino met them. Lindsey believed that Olu had the resources that he claimed. Oliami provided Lindsey with a letter from one of the largest financial trusts in the country showing their willingness to supply Olu with the $25 million for the purpose of funding the GWF. Lindsey showed this letter to Pedicino, [USWA promoter] Jerry Jarrett, [USWA and eventual GWF syndicator] Max Andrews, Steve Beverly, Scott Hudson, and attorneys representing the individual parties. All parties took the document at face value. It wasn't until several months later that everyone found out it was a forgery.

When Olu dropped out of the scenario, Lindsey raised the capital to fund the group, albeit on a smaller scale than was originally planned. Lindsey herself has told me about the amount of time that Pedicino spent trying to make her aware of the risks involved. When she decided to go through with it, Pedicino set up the company so that only Carol Lindsey and Danny Overstreet could write checks on the GWF account. Joe could not have spent his investors' money, as he had no control over it. Joe's duties with the organization were simply it's day-to-day operation and TV production.
The way that Kris and I read this while recording the podcast was that, if true, it sure seemed to imply that Carol Lindsey had felt guilty for vouching for Oliami. We did some limited Google research/detective work (and by "limited," I mean "started by Googling "Kongi Sports and Entertainment") and even recorded an addendum to add what we found after we finished recording the show proper. The first result? A listing on a website of aggregated corporate registrations in Georgia, which lists Kongi as being incorporated on December 26, 1990. While it's interesting enough that it took over three months after the announcement to exist on paper, the other particulars were even more interesting: On that page, the listed company officers are CFO and Secretary Carol Lindsey and CEO "Olu J. Olayemi."
Yes, for over 27 years, even though it was on the actual corporate paperwork, everyone had his name spelled wrong. Oops.
More importantly, though, this backed up the key claims in Fargo's letter, even if it did lead to some new questions, like why it took months to incorporate and what exactly Carol Lindsey's role entailed before she and her son took over funding the GWF. But still, it was pretty clear and convincing evidence in favor of the version of the story with Pedicino as wronged party. We also did some Googling of the variations on Olayemi's name (Olu Olayemi, Johnson Olayemi, Johnson Olu Olayemi, Olu Johnson Olayemi, Olu J. Olayemi, J. Olu Olayemi, etc.) and while we didn't find much, it was clear that he's lived in the Atlanta area for decades while owning various businesses.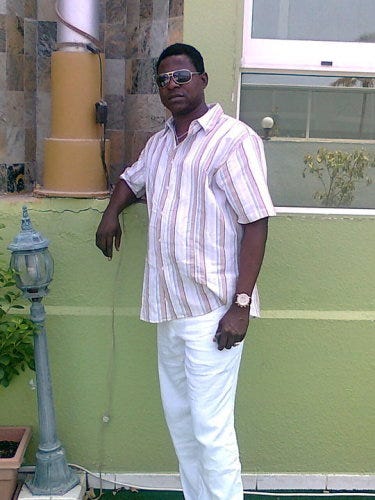 J. Olu Olayemi (Photo: MyLife.com via ???)
The only photograph we could find of Olayemi, which appears to have been scraped from an old social media profile, is on a MyLife.com page (archived here) trying to get you to buy a background check on him. (Reverse image searches on both Google and TinEye find no matches for the photo as of this writing.) Even 30 years later, the man in the photo is recognizable as the guy who appeared in the crowd at the USWA Challenge taping in Nashville. Anyway, last night, almost out of nowhere, I realized that I'd had an extended brain fart for a good 15 months: Even though I had used it for other research, I had never checked the ever useful Georgia Corporations Division website to search for a scan of actual incorporation paperwork Kongi. So I decided to do just that, and yup, there it was.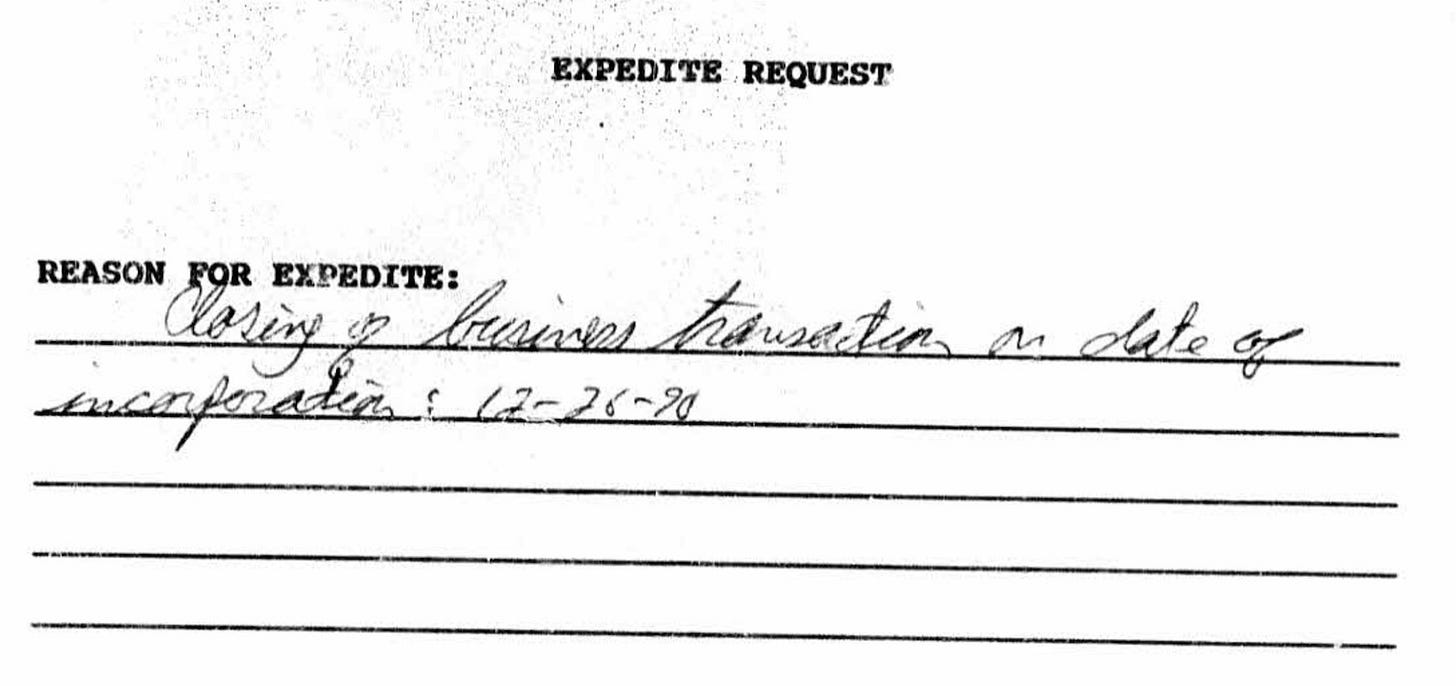 "REASON FOR EXPEDITE: Closing a business transaction on date of incorporation 12/26/90" (Screenshot: Georgia Corporations Division)
The information on the aforementioned aggregator site matches up to what's in the actual filing, but the scanned filing also has additional information, as well. Specifically:
J. Olu Olayemi is listed as the incorporator.

The board of directors consisted of J. Olu Olayemi, Joseph V. Pedicino, Carol O. Lindsey, and a new name: Konrad B.K. Berk. (There's no indication how Berk, who appears to have been a Baltimore-based stockbroker, got into the picture or was otherwise involved outside of his name being mentioned here.)

It was requested that the paperwork be expedited, with the reason given being "Closing a business transaction on date of incorporation: 12/26/90."

The data entry form that closes the document lists the incorporator as "J. Olu Alayemi." Yes, with an "A." In the context of the rest of the document, it seems like a simple data entry error, even though the keys are on opposite sides of the keyboard, but it's worth mentioning given the larger situation in play.
So we have two key items to look at: The first is that Olu Olayemi was, ostensibly, the owner of Kongi. This gets to what's probably still the biggest unanswered question: Did anyone get any money out of this, even Olayemi? Knowing that he was an Atlanta businessman does explain a lot—this guy wasn't flying to and from Nigeria for all of this—but still, this went on for months. We probably won't ever know that part, or even why Pedicino and/or the Overstreets never pursued legal action. Even if that doesn't help much, the request to expedite the paperwork does, in fact, fill in a big gap.
See, a big part of the whole mess and mystery is that, outside of Matwatch, the 1990 coverage picked up with the announcement that depending on the report, Kongi had reached a deal…
…on Saturday, November 17 to buy Jerry Jarrett's USWA promotion, getting the Memphis-based territory, the Dallas-based circuit Jarrett was about to reenter after leaving it months earlier over a dispute with Kevin Von Erich, and, perhaps most importantly the USWA's television syndication network. (This was the version in Matwatch and the Torch, with the Torch even sending out a special mid-week update about the news.)
OR
…on Friday, November 16 to buy just the USWA television syndication network. (This, however, was what was in the Observer.)
Conflicting stories aside, everyone was in agreement that Jarrett's return to Dallas on December 28th—two days after Kongi was finally incorporated—would be a pilot taping for the GWF, and that show did, in fact, actually happen. (If you want to watch the taping, a significant portion of the weird "Best of the USWA" videos in the confusingly-labelled GWF section of "The Vault" in the WWE Network video on demand library were shot at the show in question.) But even with new, GWF-specific talent brought in for the show the show (Steve Williams, Terry Gordy, Scotty The Body scouting at ringside, Cactus Jack, and One Man Gang, among others), the shows were quickly turned around for air in syndication as USWA Challenge.
There was a reason for that: According to the January 14, 1991 issue of the Observer, citing both sides, the deal fell apart just two weeks after the tapings, on January 11. "The deal […] apparently was announced prematurely in that both sides from the beginning had different ideas of what was being sold," explained Meltzer, adding that . (In his 1992 response to Freddie Fargo, Wade Keller adds that "The GWF's deal with Jarrett was to purchase the USWA, which was considered the syndicated network and the ESPN timeslot [sic], but not the actual Memphis territory which went by that name.
Jarrett has never really given a good accounting of what happened here, but what Meltzer added seems accurate enough:
It appears the "real story," as best as it can be sorted out is Pedicino sent Jarrett securities as a down payment of sorts on the deal and Jarrett checked and claimed they were worth less then he was told they were and that Pedicino claimed he was asking the wrong questions to the guy to ascertain their real value and you can take your own pick as to who called off the deal at that point. Jarrett did want the deal because it was a staggering sum of money for his television network and even in the original agreement, Jarrett would still retain the rights to promote in Tennessee and Texas and keep the television stations in those markets. In addition, Jarrett's Tennessee territory hasn't been profitable of late. Pedicino says he also backed out because he didn't want to buy into the lawsuit that Kevin and Kerry Von Erich have against Jarrett.
From there, Meltzer goes into a detailed assessment of whether or not the financial backing was ever real. He also noted that "Pedicino says that it'll slow down the formation of the group, but he'll use the money he was going to pay to Jarrett (now said to be $3.4 million) and use it to buy television time in the top markets at the NATPE convention which takes place 1/14 through 1/16 in New Orleans." The NATPE 1991 issue of Broadcasting does not appear to list anything resembling the GWF or Kongi in its directory, though, which makes sense. Why, exactly? The GWF story then disappeared from the wrestling newsletters for five months, only reappearing when the Overstreets put in the money to make the deal…with USWA syndicator Max Andrews instead of Jarrett, resulting in the launch of the much smaller scale GWF that fans remember.
Knowing now that, effectively on the eve of the pilot taping, Kongi was finally being incorporated by Oleyami and that the paperwork had to be rushed because he was "closing a business transaction on [the] date of incorporation," I think we finally have more fully-formed idea of what happened when with the GWF/Kongi mess, especially with regards to what Joe Pedicino's role actually was. Hopefully, we can still learn a lot more at some point in the future, though I'm not going to hold my breath waiting on it.